Great Glazing: Juno Therapeutics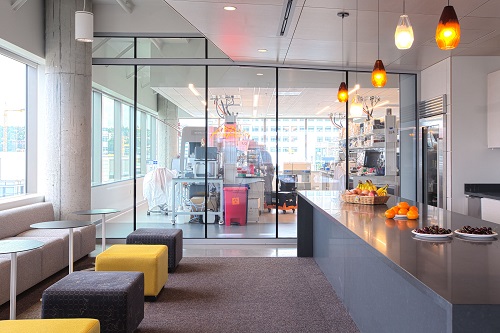 The basics: Juno Therapeutics, a biopharmaceutical company developing innovative cancer treatments, opened its new headquarters and research facility in Seattle this September. The headquarters brings together employees spread among three locations and is designed to enable collaboration. While a traditional research facility encloses and separates laboratories and office space, Juno wanted office workers and researchers to interact in a bright open environment. Floor-to-ceiling windows measuring over nine feet tall separate the office area and labs.
The players: Architect, Flad; general contractor, Skanska; contract glazier, Goldfinch Bros. Inc.; glass supplier, Vetrotech Saint-Gobain
The glass and systems: Vetrotech Saint-Gobain and Goldfinch Bros. Inc. partnered together on lead time, space, storage and other logistics to create glazing that met project requirements and matched the architect's design vision.
Vetrotech provided Contraflam Structure 120, a fire-rated seamless butt-glazed solution, to separate the labs from the conference and common rooms. In case of fire Contraflam provides up to two hours of fire-resistant protection to help keep occupants safe from radiant heat transfer and gasses caused by smoke and flames. Contraflam Structure also provides needed sound reduction with an STC rating of 46 decibels.
Vetrotech also supplied the project with its VDS framing and door systems, further allowing light into the tall, narrow building.