Great Glazing: L'Avenue Montreal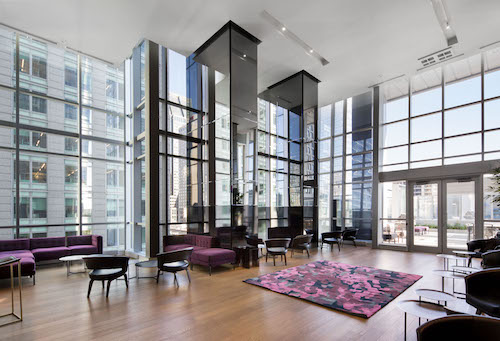 Photos by Stephane Brugger Photography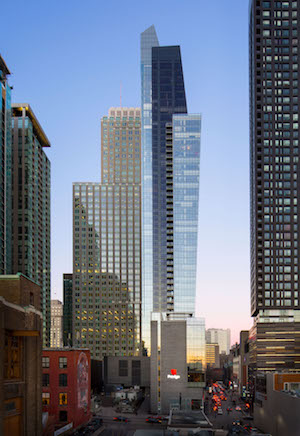 The basics: L'Avenue is a new, mixed-use, high-rise building located in the heart of downtown Montreal with residential amenities designed to offer a resort-like experience for inhabitants. The building is located across from the Bell Center on Avenue des Canadiens.The 50-story residential tower, which houses 304 apartment units, as well as commercial office and retail space, features approximately 434,700 square feet of glazing. The tower has three sculpted rectilinear volumes that step away from the adjacent office building revealing each of its layers. Design goals included balancing high performance with aesthetics, specifically creating contrast among the three tower shafts.
The players: Architects, IBI Group, Page + Steele Architects; general contractor, Broccolini Construction Inc.; contract glazier, Gamma; glass manufacturer, AGC Glass North America; glass fabricator, Multiver Ltée
The glass and systems: The tower combines dark and clear curtainwall glazing to create definition. AGC Glass North America supplied approximately 434,700 square feet of Energy Select R42 and Solarshield Tinted glass to the project. Energy Select is a high-performance, low-emissivity coated glass with an aesthetically-neutral reflectance that contrasts with Solarshield in grey.
Energy Select R42 has a visible light transmission of 62 percent. Solarshield is a tinted glass solution that increases air conditioning efficiency, while reducing glare and offering unobstructed views.