Great Glazing: La Fiesta Square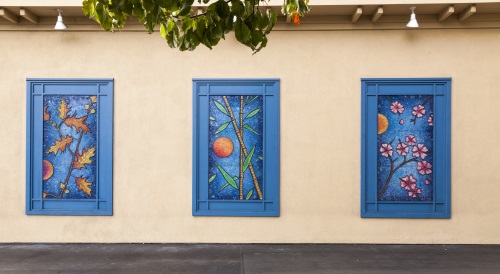 The basics: A three-panel glass mural adorning the outside wall of La Fiesta Square, an upscale shopping center in downtown Lafayette, Calif., features pieces of shattered glass, pieced together to create a scene. Using shattered, clear tempered glass catches the light and reflects it to show detail in a way that ceramic mosaic cannot achieve. The scenes are cohesive and pop from a distance while at the same time have hundreds of small details under the glass for pedestrians to discover up close. While designing all three murals to flow together seamlessly, the mural designers also worked to have each mural be unique enough to stand alone.
The players: Artist/designer and installer, Ellen Blakeley Studio; glass fabricator, Western States Glass
The glass and systems: To create the murals, glass mural artist and designer Ellen Blakeley Studio started with tempered glass panels and chunks of 1/4-inch clear plate to highlight graphic details. Western States Glass supplied the glass for the project. La Fiesta Square used 3/8-inch tempered pieces of black glass to outline all of the leaves, flowers and stems, and ¼-inch tempered glass for all other pieces. The raised black lines create depth and drama. Ellen Blakeley sprayed the thicker glass with black lacquer facing down. Using clear glass allowed the artist to do three large paintings with many tiny details and then cover these details with pieces of broken plate, which allows all of the details to show clearly.
For all of its projects, Ellen Blakeley Studio breaks the glass panels by laying them down carefully on a flat surface and hitting a corner hard enough to shatter the glass. The substrate can be a variety of materials, including Hardibacker, glass, aluminum, Plexiglas or wood. Once it selects the substrate, the studio applies the design to the top surface using paint, metallic powders, glitter, pictures, words, photographs or leaves, then laminates the finished design onto the substrate with two-part clear epoxy, and grouts the surface to fill any spaces. Finally, the piece is edged and custom cut, sealed and cleaned before delivery and installation.