Great Glazing: Little Caesars Arena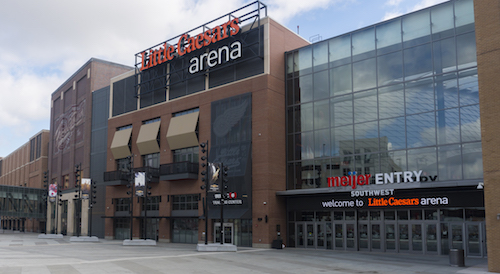 Photos (above and at top right) by Red Archie, courtesy of Tubelite Inc.; photo (bottom right) courtesy of Trex Commercial Products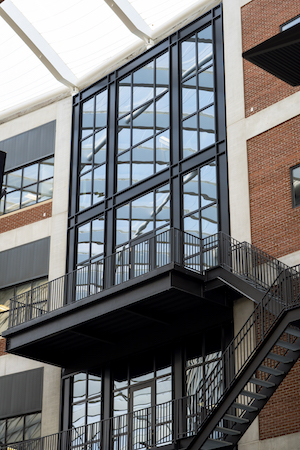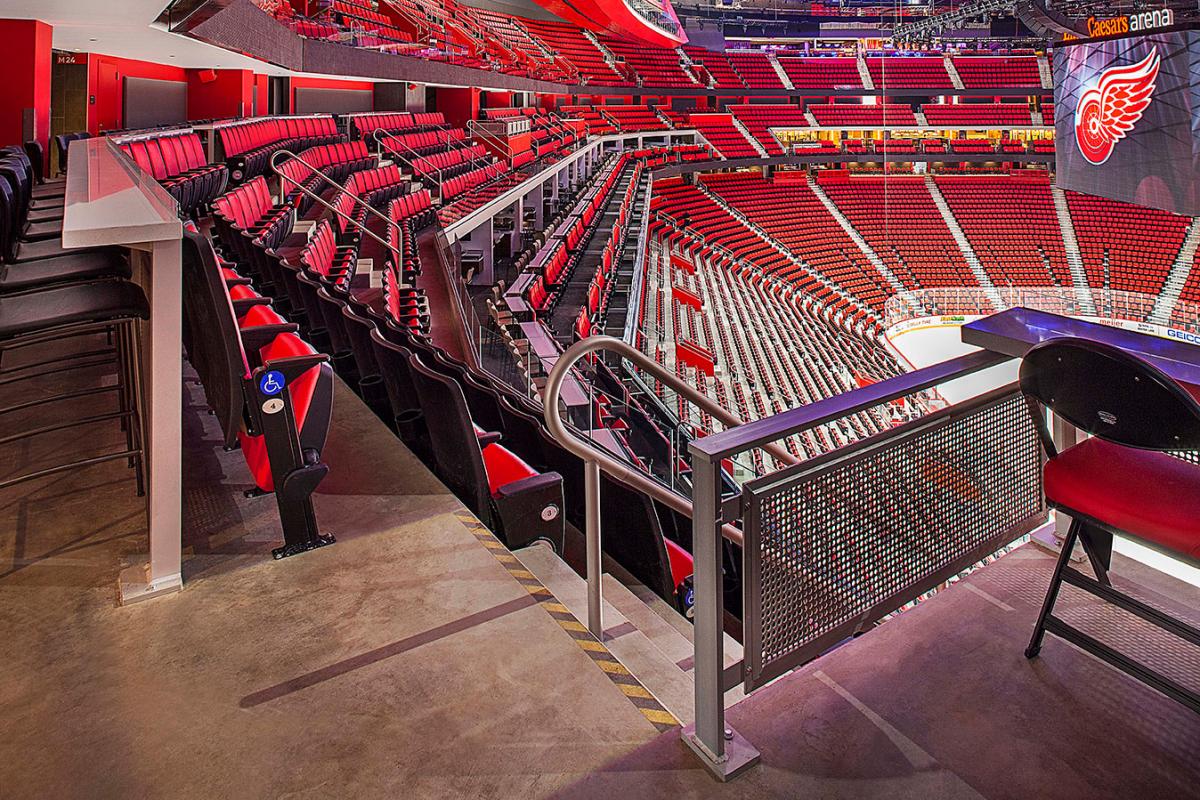 The basics: Home to the NHL's Red Wings and NBA's Pistons, Little Caesars Arena in Detroit is designed to be one of the most intimate venues in both hockey and basketball. The arena features numerous buildings composing the whole sports and entertainment destination, and anchors a 50-block area known as The District Detroit. The $862.9 million complex blends historic and modern aesthetics with massively scaled fan-friendly interiors and modestly scaledpedestrian-friendly exteriors. This approachable sizing is complemented by a 61,000-square-foot covered concourse and three connected, mid-rise buildings. Various configurations of brick, glass, metal and finish colors comprise these buildings' façades and help create the illusion on the downtown street. Inside, the arena includes a suspended gondola-style seating area featuring several hundred feet of glass railing.
The players: Architect, HOK; general contractor, Barton Malow-Hunt-White; contract glazier, Madison Heights Glass (arena), Universal Glass & Metals Inc. (connecting buildings, parking deck); glass manufacturer, Vitro Architectural Glass; glass fabricator, Global Security Glazing; metal systems suppliers, Tubelite Inc. (curtainwall, storefront doors and frames), Linetec (aluminum finisher), Trex Commercial Products (glass railing)
The glass and systems: Tubelite Inc.'s entrances, storefront and curtainwall are used on all of the arena's façades. The majority of these systems rely on 1-inch, insulated Solarban 60 low-emissivity glass from Vitro Architectural Glass. At the first floor elevation, 1.25-inch, insulated, Solarban 60 low-e with impact-resistant glass was chosen for enhanced security.
Madison Heights Glass installed the systems on the main arena building's interior and exterior, on Building C's team store, on Sports & Social Detroit and on Building A/B's Mike's Pizza. Universal Glass & Metals served as the glazing contractor on the arena's parking garage, pedestrian bridge and three connected buildings.
Tubelite provided 30,100 square feet of 400TU Curtainwall in 7.5- and 10-inch-deep systems, and 186 Standard and Monumental Medium Stile entrance systems in four painted colors and a clear anodize finish for the exterior. Linetec was the aluminum finisher for the curtainwall, doors and 11,500 square feet of Tubelite E14000 storefront systems.
The arena's interior seating area features several hundred feet of glass Track Rail provided by Trex Commercial Products. The glass railings are comprised of ½-inch and ¾-inch clear, tempered, laminated glass installed with steel embeds and secured with welded steel stiffener plates.