Great Glazing: Louis and Peaches Owen Hospital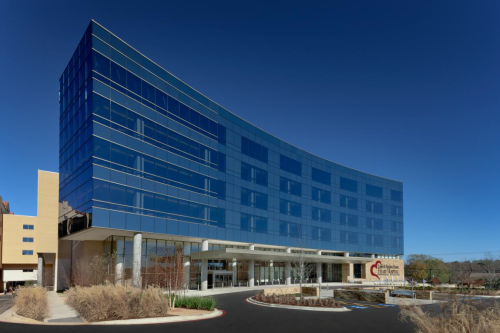 Photo by Aker Imaging
The basics: The 154,000-square-foot Louis and Peaches Owen Hospital in Tyler, Texas, features a curved all-glass façade above the ground floors. The glass creates a vibrant blue tint that offers abundant natural light while greatly diminishing solar heat gain. The entry opens to a light-flooded, double-height lobby.

Access to natural daylight and maximizing views from within the building for patients and visitors was a key design consideration. This was balanced with the goal of creating an energy efficient building envelope, and informed the final selection of the glass for the building. The use of low-iron glass at the multi-story lobby helped accomplish client's goals of a welcoming entrance and intuitive wayfinding.

The players: Architect, WHR Architects Inc.; general contractor, Austin Commercial; contract glazier, Tyler Glass; glass fabricator, TriStar Glass Products; glass manufacturer, PPG

The glass and systems: Louis and Peaches Owen Hospital is one of the first major buildings to be constructed with neutral-reflective Solarban R100 solar control, low-emissivity glass by PPG Industries. The lobby uses Solarban 60 glass on ultra-clear Starphire glass. The curved façade above the ground floors incorporates Solarban R100 glass on Optiblue glass. In a 1-inch insulating glass unit with clear glass, Solarban R100 Optiblue glass has visible light transmittance of 30 percent and a solar heat gain coefficient of 0.20. The resulting light-to-solar gain ratio of 1.50 is ideal for a dark blue-tinted glass. In the lobby and concourse, Solarban 60 Starphire glass in a 1-inch IGU yields VLT of 74 percent, a SHGC of 0.41 and an LSG ratio of 1.80.