Great Glazing: Mall of America Expansion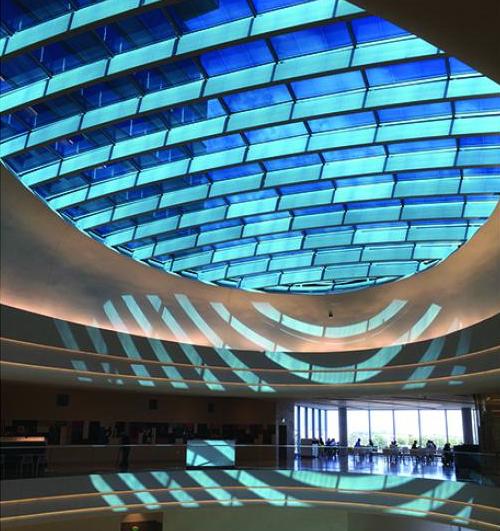 The basics: In May 2014, Mall of America embarked on a $325 million expansion project, the most significant construction project for the Mall since its opening more than 20 years ago. A new grand atrium and entrance, which includes a smart glass skylight, creates an impressive focal point for the expansion and makes space for larger events. The expansion also features a 342-room JW Marriott hotel, an office tower, more high-end retailers and a welcome center.
The players: Architect, DLR Group; general contractor, Mortenson Construction; contract glaziers, AMG Architectural Glass and Glazing, United Skys (skylight framing and installation), W. L. Hall Co.; glass fabricators, SageGlass (skylight), Viracon (elevator), Oldcastle BuildingEnvelope (JW Mariott); metal systems manufacturers, Kawneer (elevator), SC Railing Co. (railing systems)
The glass and systems: The Mall of America expansion uses glass to maximize interior drama, visitor comfort and energy efficiency, project players report.
More than 300 panes of electronically tintable SageGlass, a product of Saint-Gobain, create the new 3,500-square-foot rotunda skylight. Light sensors control the skylight, adjusting tint automatically as the sun intensifies throughout the day. Tinting can also be controlled manually as needed for special events at the Mall that require customized glare or heat management.
The JW Marriott hotel features ½-inch low-iron tempered glass fabricated by Oldcastle BuildingEnvelope, and installed by W. L. Hall Co. SC Railing contributed stainless steel ArchitectuRail Point Series and Base Shoe railing systems to the grand lobby and balcony overlooks.
The Point Series railing system is a side mounted system utilizing 2 ½-inch stainless steel nodes. For the JW Marriott, a drilled and tapped steel plate was field welded to the steel embed. The Point Series nodes were then mechanically fastened to the plate. The Base Shoe railing system includes a top mounted ½-inch glass shoe anchored to the structural slab. A stainless steel handrail at 36 inches helps minimize glass deflection while maintaining clear sightlines between floors.
The Mall's updated interior glass systems also include curved glass balustrades on multiple levels and a glass elevator enclosure installed by AMG Architectural Glass and Glazing and made from white frit laminated Viracon safety glass with Kawneer custom brushed aluminum framing.