Great Glazing: McKinnon Center for Management, University of New Mexico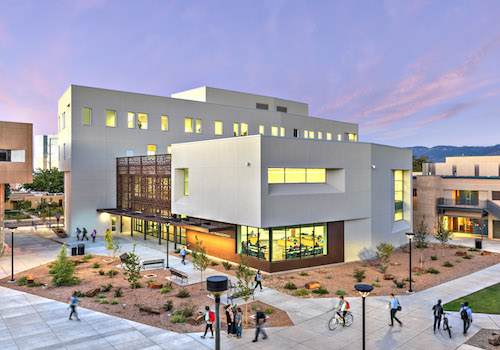 Photos by Steve Maylone, courtesy of Bora Architects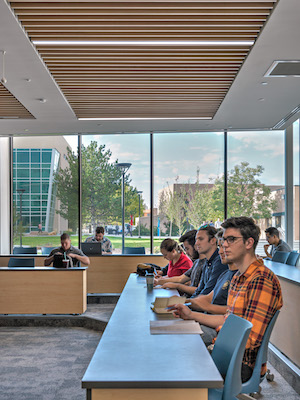 The basics: The University of New Mexico Anderson School's new McKinnon Center for Management is designed to promote interaction among faculty, staff and students, while serving as a model for sustainable business in New Mexico. Featuring high-tech classrooms, experiential learning spaces and collaborative study rooms, the Center provides a new gateway to the Albuquerque campus. A two-story central atrium serves as a focal point and gathering space. Project goals included maximizing building performance and occupant comfort, while maintaining an appearance inspired by the sculptural forms of New Mexico's pueblos. Challenged by intense sunlight, architects designed deeply recessed windows and specified thermochromic glazing to maximize energy efficiency, create a comfortable workspace and harmonize with the building's contrasting stucco and metal systems.
The players: Architect, Bora Architects, FBT Architects; general contractor, McCarthy; contract glazier, Western Commercial Glass; glass supplier, Pleotint/Suntuitive; metal supplier, Parasoleil
The glass and systems: Dynamic insulating glass units provide thermal efficiency, maximize light and views, and support the project's aesthetic goals. The window units install the same way a traditional unit does.
Suntuitive Dynamic Glass supplied the dynamic IGUs, which require no electricity to work. The glass includes a thermochromic interlayer activated by heat from direct sunlight, causing the window to tint as necessary. Thermochromic elements are embedded in a polyvinyl butyl interlayer laminated between two pieces of glass. This laminate is incorporated into the final dynamic IGU.
Parasoleil supplied the architectural aluminum panels. Custom patterns achieve different objectives: lighting the central atrium and protecting the building from sun exposure and rain.
The McKinnon Center is designed to LEED Gold Certification Standards.