Great Glazing: Minneapolis-St. Paul Airport Terminal 1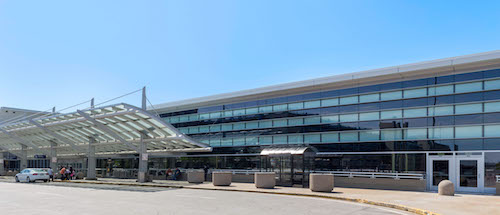 The basics: The north security checkpoint project at Minneapolis-St. Paul International Airport called for a renovation to reduce employee and passenger discomfort. Because the checkpoint faces east, employees in this area, especially, experienced discomfort at certain times of the day due to glare and heat. The Minneapolis-St. Paul International Airport is 16th in North America in terms of the number of passengers served annually. With that volume, it was critical to find an elegant design solution that would make the airport more enjoyable and comfortable for travelers and employees alike.
The checkpoint renovation called for glass that has the ability to control sunlight and to optimize daylight, outdoor views and comfort while preventing glare and heat gain in order to increase employee satisfaction as well as the experience for travelers.
The players: Architect, Alliiance; general contractor, Sheehy Construction Co.; contract glazier, W.L. Hall Co.; glass supplier, SageGlass
The glass and systems: SageGlass installed 2,800 square feet of SageGlass at the MSP Terminal 1-Lindbergh as part of the north security checkpoint project.
"SageGlass plays an important role in solar control, both for energy conservation and for the quality of the indoor environment," said Greg Maxam, director of Sustainable Design at Alliiance, the project architect. "Passengers benefit from daylight and views, but direct solar penetration can be controlled."
"We all know that traveling can often be stressful, but it doesn't have to be," said Alan McLenaghan, CEO of SageGlass. "With SageGlass, the facility can harness the benefits of sunlight and redefine the airport experience, making it more comfortable for both travelers and TSA personnel."