Great Glazing: Mossom Creek Hatchery Fire-rated Deck Flooring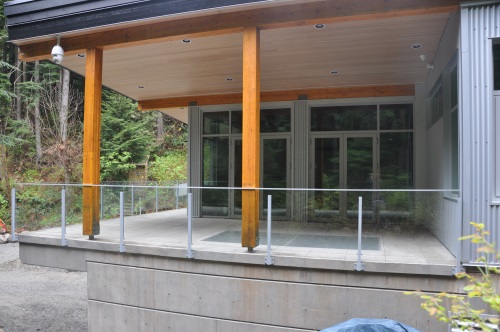 The basics: About 15 months after a December 2013 fire completely destroyed the Mossom Creek Hatchery, the Port Moody, British Columbia, icon reopened thanks to the work of a group of volunteers, fundraising and donated building products. The $1.2-million project focused on the environment, sustainability and education. Due to its remote location, the building was required to be built non-combustible.

The two-story building houses the hatchery on the ground floor and an education center on the upper floor. The ground floor is concrete construction with no windows, for security and fire safety. The hatchery building features a large deck over a portion of the lower hatchery, forming the roof in this area. Because the hatchery would be fully enclosed, the building's construction manager wanted a way to introduce a light source, and chose a fire-rated glass skylight installed in the deck above.

The players: General contractor, Patrick Dennett; contract glazier; Glaziers and Glassworkers Union District Council 38 members; glass fabricators, Greenlite Glass Systems Inc., Garibaldi Glass; fire-rated glass supplier, Vetrotech Saint-Gobain; glass laminator, Hartung Glass Industries

The glass and systems: The deck's glass skylight needed to be walkable, provide one-hour fire separation from the upper structure to the lower hatchery, serve as a light source for the hatchery, and allow visitors to see into the hatchery and out to the surrounding forest.

Greenlite Glass Systems supplied LiteFlam 60-minute IGU walkable glass floor/skylight, featuring a fire-rated interior lite donated by Vetrotech. A slip-resistant ceramic frit pattern provides a non-slip walkable surface for the deck, while allowing visitors to view from the deck into the hatchery and from the hatchery to the outdoors.