Great Glazing: New College House, University of Pennsylvania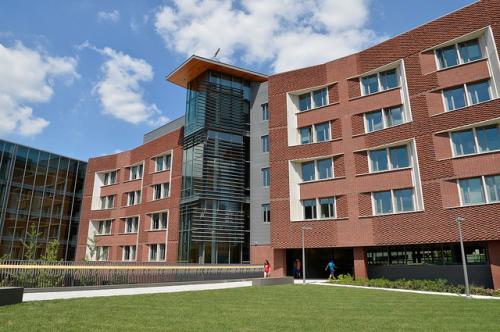 Photos courtesy of University of Pennsylvania
The basics: The 198,000-square-foot New College House, a $127-million project at the University of Pennsylvania, opened for the 2016-17 academic year as the first new student residence on campus since 1972. Designed by Bohlin Cywinski Jackson in collaboration with the University, New College House brings together undergraduates, faculty, staff and graduate students in a shared suite-style community. The seven-story building with a publicly accessible, lifted lawn serves as a pedestrian gateway to campus. New College House's large, vertical transparent towers frame the views of Penn's surrounding campus community and Center City Philadelphia. A courtyard in the middle of the building is private to residents and surrounded by glass on all four sides, connecting the building's exterior and interior spaces, and providing students with a gathering place.
The players: Architect, Bohlin Cywinski Jackson; general contractor, Intech Construction; contract glazier, National Glass & Metal Co.; glass fabricator, J.E. Berkowitz; glass manufacturer, Vitro Architectural Glass; curtain wall and metal systems manufacturer, Wausau Window and Wall Systems; metal finisher, Linetec
The glass and systems: Glazing contractor National Glass & Metal collaborated with Wausau Window and Wall Systems to meet the numerous design and performance requirements of New College House. The project team selected Wausau's SuperWall system, 4250i-OS INvent Series fixed and projected windows, and ClearStory sun shades. National Glass & Metal installed more than 39,000 square feet of SuperWall in frame depths of 4.75, 6.25 and 10.25 inches.
Within the SuperWall system, National Glass & Metal incorporated Wausau's 4250-Z zero sightline insert vents. To match the look of other residences on campus, more than 400 offset INvent windows were installed at angles to the red brick and limestone façade of New College House. Linetec provided thermal improvement services for Wausau's products, as well as the painted finishes.
J.E. Berkowitz fabricated one-inch Winduo insulating glass units incorporating high-performance, low-emissivity Solarban 70XL glass by Vitro Architectural Glass in both vision and custom silkscreened units. The glass specifications help meet the goals of reducing solar heat gain in areas that use daylighting.
"In this city of neighborhoods, we sought to embrace the many scales of community that define the collegiate experience unique to Penn," says Frank Grauman, design principal from BCJ. "The New College House is, therefore, both inviting and secure, open and private, embodying the comfort of home, and the power to form a campus gateway worthy of this place."