Great Glazing: Oregon Zoo Education Center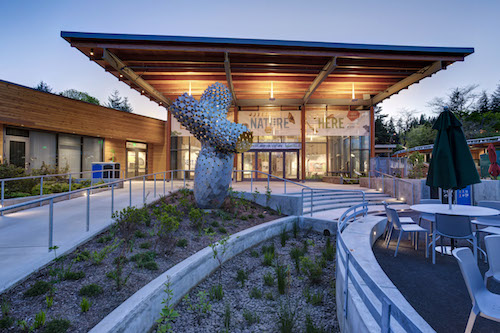 Photography by Rick Keating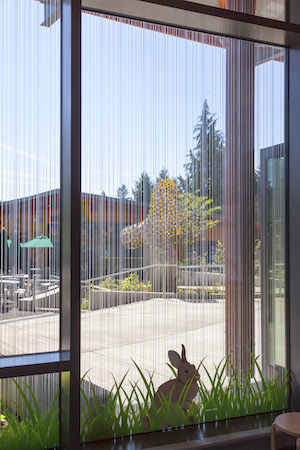 The basics: The new Oregon Zoo Education Center includes classrooms, a lecture hall and a nature exploration station. The center is the entry point for thousands of children who participate in zoo camps and classes each year, and expands the zoo's conservation education programs and activities through federal and municipal partnerships. Intended to promote environmental learning and activity as well as to inspire visitors, the 20,000 square-foot facility makes extensive use of bird-friendly floor-to-ceiling glass to prevent collisions. The glazing systems support the center's mission and help meet the project's stringent goal of net-zero annual energy use.
The players: Architect, Opsis Architecture; general contractor, Fortis Construction; contract glazier, Battle Ground; glass manufacturer, Vitro Architectural Glass; glass fabricator, Oldcastle BuildingEnvelope, Walker Textures; metal systems supplier, Benson Industries
The glass and systems: Vitro Architectural Glass supplied Solarban 70XL solar control low-emissivity glass to the project. Solarban 70XL has center-of-glass visible light transmittance of 64 percent and a solar heat gain coefficient of 0.27 in a standard 1-inch insulating glass unit.
The design specified an etched pattern of Walker Textures AviProtek E with varying line widths and spacing.
Oldcastle BuildingEnvelope, a member of the Vitro Certified Network, was the glass fabricator.
The glazing systems are designed to help the center achieve Living Building Challenge Net-Zero Energy certification. If certified, the center would become Portland's first and only net-zero public building. The facility is also pursuing LEED Platinum certification.