Great Glazing: Parc on Powell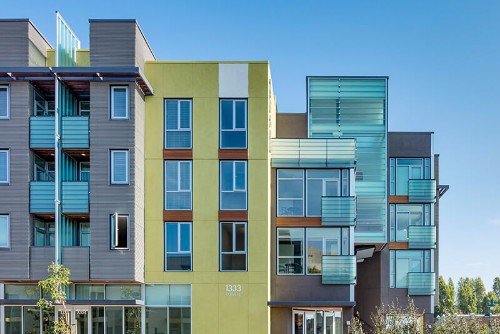 Photos courtesy of TGP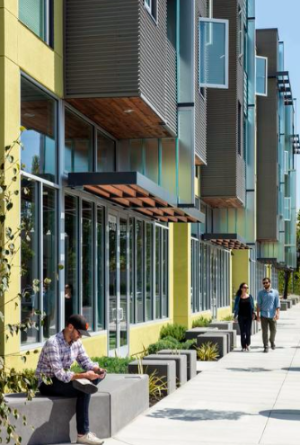 The basics: Parc on Powell is a mixed-used development in Emeryville, California. A key project goal was to capture the attention of the public without losing sight of the area's industrial origins. The city and neighborhood wanted certain elements of the existing structures preserved, including the brick façade of the building on the site's north side. To engage pedestrians at the street level, the architects designed a new four-sided channel glass tower, balconies with horizontal channel glass strips and channel glass fins that give the second building a unique identity.
The players: Architect, Kava Massih Architects; general contractor and installer, Build Group; glass fabricator, Technical Glass Products
The glass and systems: To differentiate the two structures, the architect contrasted the materials on the southernmost building with approximately 3,600 square feet of Pilkington Profilit channel glass from Technical Glass Products (TGP). The linear, "U"-shaped, cast-glass channels are self-supporting and mounted in an extruded metal perimeter frame.
Horizontally glazed channel glass segments create the defining tower and extend 194 7/8 inches at their widest point. Since the typical limit for channel glass in horizontal openings is 156 inches wide, the architect worked with TGP to develop a custom wind and dead load clip system.
"The channel glass tower is designed to serve as a marker and help identify this corner of the city," explains J. Connor, principal, Kava Massih Architects. "The material's translucency allows it to glow at night from the interior lights, welcoming the public. During the day, it is reflective from the nature of the glass."
Balconies with horizontal channel glass strips inset into elevations complement the tower. Vertical channel glass fins protrude perpendicularly from the flat face of the building and extend up, often continuously, between sunshades at the fourth story of the building, creating a privacy panel between decks, in addition to aesthetic appeal.