Great Glazing: The Pearl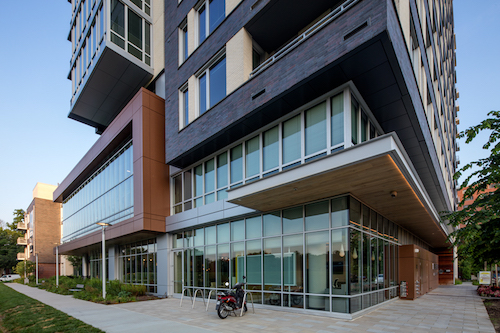 Photos © Perzel Photography Group, courtesy of Kawneer Co.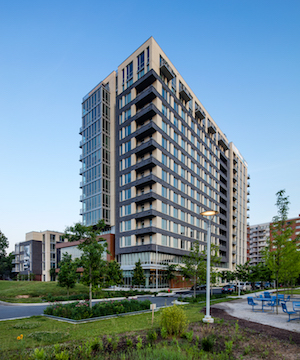 The basics: Located in Silver Spring, Maryland, The Pearl is a modern multifamily community, designed to balance urban convenience with the need for occupants to retreat from daily life. The first phase of a 20-year master plan to redevelop the historic Blairs Apartments, the 27-acre area space will eventually include 2,800 residential units, as well as office, retail, and hotel space, connected by five acres of parks, playgrounds and gardens. Expansive windows, terrace doors and curtainwall systems enhance natural light throughout the project's three buildings, enabling residents to connect with nature. Apartments maximize light and offer occupants views of Rock Creek Park; the courtyard and each elevator stop are also designed for maximum light and unobstructed views.
The players: Architect, Design Collective; general contractor, Clark Construction; contract glazier, Engineered Construction Products Ltd.; glass manufacturer, Vitro Architectural Glass; metal systems supplier, Kawneer Co.
The glass and systems: Vitro Architectural Glass supplied 1-inch insulting glass units with Solarban 60 low-emissivity coated glass and ¼-inch monolithic glass on interior applications.
Architectural grade NX-3800 Thermal Windows with structural mullions from Kawneer Co. create a sturdy and reliable window wall appearance that enhance views, natural light, and thermal performance through large floor-to-floor window spans. Engineered Construction Products Ltd., the glazing contractor and installer, and Kawneer collaborated to design custom receptors to bridge the larger wall sections, position thermal breaks and provide proper structural support within the stud cavity.
Kawneer also provided 1600 Wall System 1 and 2 Curtain Wall, NX-8900 Terrace Doors and 350 Heavy Wall Entrances to the project.