Great Glazing: Pier 70 Buildings 115 and 116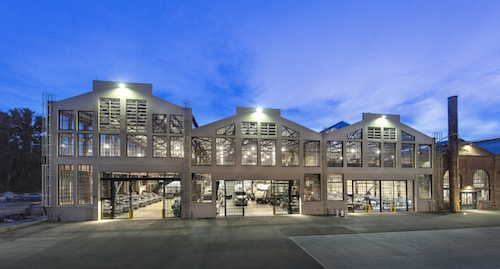 Photos by Billy Hustace Photography, courtesy of Winco Windows.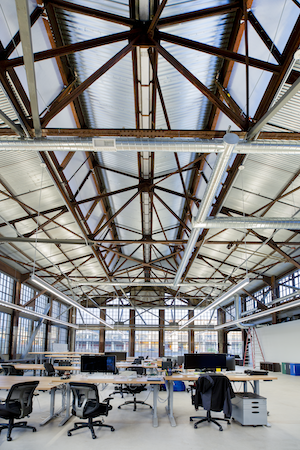 The basics: Massive historic steel replica windows breathe new life into several buildings at San Francisco's historic Pier 70, a California landmark on the National Register of Historic Places. Pier 70 sits on approximately 69 acres along San Francisco's Central Waterfront in the heart of the city's Dogpatch neighborhood. Built in 1916-17, buildings 115 and 116 were constructed of cast-in-place concrete with a light-gauge corrugated roof and plenty of mullioned windows supplying natural light. The largest of the buildings, a two-block-long, unreinforced masonry former machine shop, had been red-tagged for years and was in danger of collapse by the time the project team began construction. The design team developed a building-within-a-building concept that preserved the historic perimeter brick walls, reduced the cost of temporary shoring and retained the open volume in the 62-foot-tall space. Design goals included matching the original windows as closely as possible, while meeting contemporary seismic and life-safety codes.
The players: Architect, Marcy Wong Donn Logan Architects; general contractor, Orton Development Inc.; contract glazier, Maz Glass; glass manufacturer, Vitro Architectural Glass; window supplier, Winco Windows
The glass and systems: The original windows were over-sized with thin, wooden sightlines that were too light and deteriorated to be rebuilt. Maz Glass, the Oakland-based installers, had to rebuild the window openings. The steel channels were rusted through and significant concrete repair work was necessary to support the huge windows.
Winco Windows supplied the project's replacement windows. In total, Winco provided more than 48,000 square feet of Winco Series 3250 Steel Replica windows fitted with ¼-inch monolithic tempered clear glass supplied by Vitro Architectural Glass. The windows are designed to withstand 110 mph winds as well as seismic activity.
"The size of the windows is the key design element of the buildings," says Kent Royle, associate principal, Marcy Wong Donn Logan Architects. "The size, number and repetition of windows make Pier 70 Buildings 115 and 116 stunning from the street, and inside, occupants are bathed in natural light."