Great Glazing: ProMedica Health and Wellness Center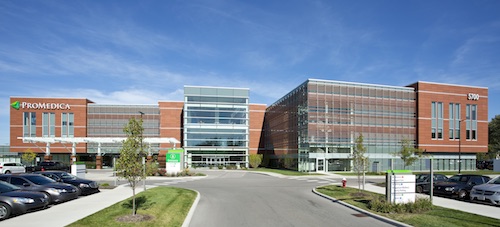 Photos by Jim Cunningham Photography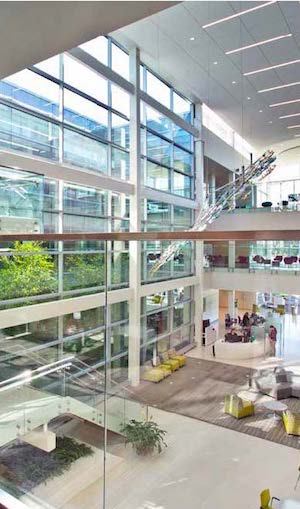 The basics: With 23 interconnected clinic modules, the three-story, 230,000-square-foot ProMedica Health and Wellness Center maximizes ease of movement for patients, staff and supplies. Design goals also included increased connectivity, flexibility and a sense of place. Two courtyards and a glass atrium flood the gallery space with light, provide outdoor access and complement the open design.
The players: Architect, HKS Inc.; general contractor, Toledo-Lathrop; contract glazier, Toledo Mirror & Glass; glass manufacturer, Vitro Architectural Glass; glass fabricator, Oldcastle BuildingEnvelope; metal systems supplier, Kawneer
The glass and systems: Vitro Architectural Glass supplied low-emissivity Solarban 72 to maximize the effects of the building's natural light and to help create a healing environment. With a triple-silver coating on Starphire Ultra-Clear glass, Solarban 72 has visible light transmittance of 71 percent in a standard 1-inch insulating glass unit.
Oldcastle BuildingEnvelope fabricated more than 60,000 square feet of glass for the project.
Kawneer supplied 1600 Curtainwall.
Doug Dewar, Oldcastle BuildingEnvelope, says good coordination among suppliers was essential to the project's success,"The glass sizes were requested in phases, and once we called Vitro with an order, the glass would be on our floor virtually on a just-in-time basis."