Great Glazing: Puerto Rico Federal Buildings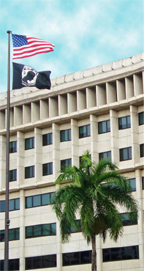 The basics: The team in charge of renovating the exterior of the Federico Degetau Federal Building and the Clemente Ruiz Nazario U.S. Courthouse in San Juan, Puerto Rico, faced notable challenges. Built in the 1970s, both buildings were in need of repair, including replacement of deteriorating windows. The basic challenge was to protect the federal office buildings and their occupants while maintaining the modern aesthetic, according to a Wausau Window and Wall Systems release. The renovation included installation of high-performance window systems to meet various security and environmental requirements, including: energy efficiency, ballistic and blast mitigation, and moisture and hurricane resistance. The window replacement portion of the 460,000-square-foot federal building and 100,000-square-foot courthouse renovation took two years, while both buildings remained fully occupied and running.

The project was one of several funded in Puerto Rico by the Federal Government as part of the U.S. General Services Administration's Security Enhancement, Glass Fragmentation Program.

The players: Owner, U.S. General Services Administration; architect, Wank Adams Slavin Associates LLP (WASA/Studio A);construction manager, Jacobs Engineer Group Inc.; blast consultant, Weidlinger Associates Inc.; general contractor and glazing contractor, Koch Corp.; glazing systems manufacturer, Wausau Window and Wall Systems; glass fabricator, Viracon Inc.; glazing systems finisher, Linetec.

The glass and systems: "The goal was to satisfy the project requirements without increasing the existing sightlines," says WASA's senior associate for preservation, Angel Ayón. The window systems keep the original architectural character intact, with narrow sightlines, and feature aluminum frames finished in bronze anodize.
Wausau fabricated nearly 1,400 glazed units, including six types of windows, each meeting different performance requirements. Wausau's 3250i-V Visuline and 3250i-HP INvent Series hurricane-resistant windows made up the majority of the windows. The windows employed polyamide frame thermal barriers to meet the required maximum U-factors and solar heat gain coefficients. Viracon provided the low-emissivity coatings for the insulating, laminated, blast- and ballistic-resistant glass for both buildings.