Great Glazing: PV Fins, Life Sciences Building, UW-Seattle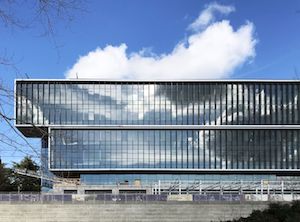 The basics: The new seven-story Life Sciences Building at University of Washington is a 170,000 square-foot research and instructional space designed to foster collaborative and interdisciplinary research. Floor-to-ceiling windows on the building's south side take advantage of dramatic views and maximize natural light. The UW Solar student group, an interdisciplinary team of undergraduates and graduate students, was involved in the analysis and fundraising for the solar energy system, which features innovative vertical photovoltaic fins installed on the southwest elevation of the building. The glass fins with embedded photovoltaic cells shade the windows when needed, while generating renewable energy. The PV fin system helps to meet objectives in the UW's Climate Action Plan for Sustainability, while creating a comfortable and dynamic workspace.
The players: Architect, Perkins + Will; general contractor, Skanska; contract glazier, Mission Glass; glass supplier, Onyx Solar
The glass and systems: Made of amorphous silicon solar cells that capture sunlight and convert it into clean electricity, the PV fins were supplied by Onyx Solar. They are all-glass and semi-transparent, allowing 20 percent visible light to pass through the fin. The fins diffuse light and control glare, mitigate the interior's aging and perform under low-light conditions.
Each fin consists of three-ply laminated, tempered glass, and offers 3.15 Watts per square foot. The fins are frameless and were installed vertically and perpendicularly to the curtain wall. Concealed junction boxes and wires contribute to the building's design aesthetic and help to simulate the appearance of conventional glass fins.
The lobby of the building will feature a dashboard that allows students and visitors to learn from the system and monitor energy production in real time. They will be able to compare the building's energy demand against the renewable energy sources onsite and explore the model.
The photovoltaic fins are also highly visible from Pacific Avenue, which will help to raise student and visitor awareness about sustainability and innovation. In addition to shading the building and reducing the heat transfer, the fins act as windbreaks in winter, boosting the building's insulation.