Great Glazing: Richland Two Institute of Innovation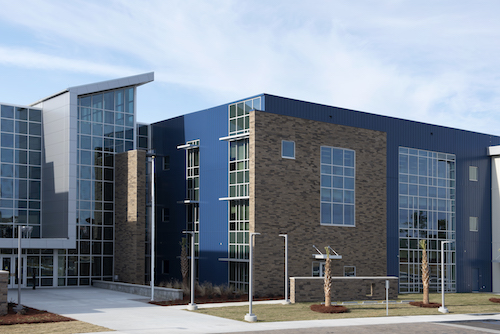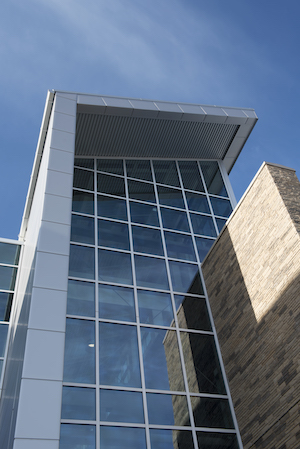 The basics: The new Richland Two Institute of Innovation is an educational center supporting multigenerational learning. Part of the Richland School District Two in Columbia, South Carolina, the facility weaves together spaces and programs for the school district as well as the community. The contemporary design employs an inviting and colorful palette of materials, including metal panels, simulated stone veneer, abundant glazing and four clerestories that introduce natural light to the building. Pre-cast concrete is painted to match the differing colors of the metal panels. LS3P designed the facility with large expanses of glass to maximize the proven enrichment daylighting brings to learning environments. The team was committed to a neutral aesthetic for glazing, but needed to meet strict energy performance requirements.
The players: Architect, LS3P; general contractor, M.B. Kahn Construction Co.; contract glazier, Ace Glass Co.; glass manufacturer, Guardian Glass; glass fabricator, Oldcastle BuildingEnvelope; metal systems supplier, PAC-CLAD; metal panel installation, Watts & Assoc.
The glass and systems: High-performance, low-emissivity Guardian SunGuard SNX 51/23 coating on clear glass from Guardian Glass solved glazing design challenges while maintaining high energy performance requirements. Guardian put together samples during the design phase to help owners visualize the completed project.
Fabricated by independent Guardian Select fabricator Oldcastle BuildingEnvelope - Rock Hill, and installed by independent Glazier Connection member Ace Glass Co., SunGuard SNX 51/23 coated glass brought to the project a visible light transmission of 51 percent with a solar heat gain coefficient of just 0.23.
"Historically, to get that low solar heat gain coefficient, you needed tint or the glass would be reflective," says Alan Kinder, architectural design manager for Guardian Glass.
Four different profiles of metal panels were supplied by PAC-CLAD, including Petersen's 22-gauge Reveal Panels, the primary exterior profile, and approximately 10,000 sq. ft. of Tite-Loc Plus panels, used on the clerestory roof elements that help differentiate the main areas of the building.
The metal panels were also key to the overall design concept. "We wanted the building to have a high-tech, contemporary look but be economical," says Mary Beth Branham, principal and LS3P's Columbia office leader.
"The program for this facility is very unique," explains Allen R. Taylor, vice president, principal and studio leader at LS3P. "It's not the typical K-12 project. More than just a school facility, it's also a district office combined with a community center and library."
"We've had a lot of positive feedback from the facility," Taylor says. "People are really pleased with the openness, and that when you see out, it's not so dark. You see what the weather really is."