Great Glazing: The Royal Hawaiian Center Skylights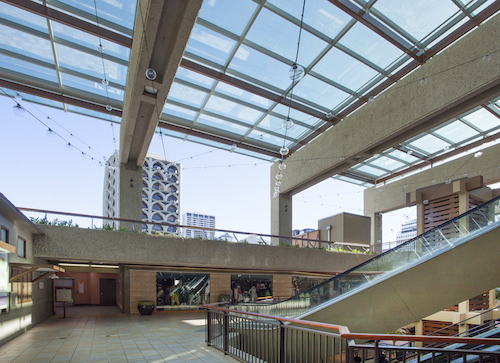 photos by William Lemke, courtesy of Super Sky Products Enterprises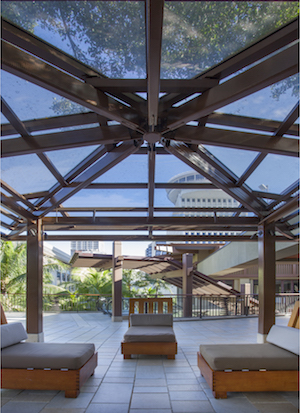 The basics: Concluding its multi-year, multi-building renovation, The Royal Hawaiian Center in Waikiki, originally opened in 1979, has revitalized and reestablished itself as a premier shopping and entertainment destination. The six-acre retail campus connects to the Sheraton Waikiki and Royal Hawaiian Hotel, just minutes from Waikiki Beach. Designed in the Brutalist Modern style of the time, heavy concrete exterior walls defined the structure with little embellishment or connection to the environment or the community. The Center's refreshed exterior seamlessly blends with its lush surroundings. On newly completed Building A, as on building C finished in 2014, skylight systems showcase natural light and views.
The players: Architect, Architects Hawaii Ltd.; general contractor, Swinerton Builders; glass supplier, View Glass; skylight systems, Super Sky Products Enterprises; metal systems finisher, Linetec
The glass and systems: A 50-by-100-foot single-slope glazing system by Super Sky contributes to the destination's open, welcoming space. General contractor Swinerton Builders oversaw this portion of the renovation project.
The skylight system uses View Dynamic Glass, an electrochromic architectural glass that intelligently transitions through multiple tint states to control the sun's energy for optimum natural light and thermal comfort.
Linetec provided painted finishes to the skylight for resiliency under the Hawaiian sun. The 70 percent PVDF resin-based coating also protects against heavy rains, high humidity and salt spray.
"Coastal environments are one of the most aggressive outdoor environments for aluminum," says Linetec's senior marketing specialist, Tammy Schroeder.