Great Glazing: Ryan Fieldhouse at Northwestern University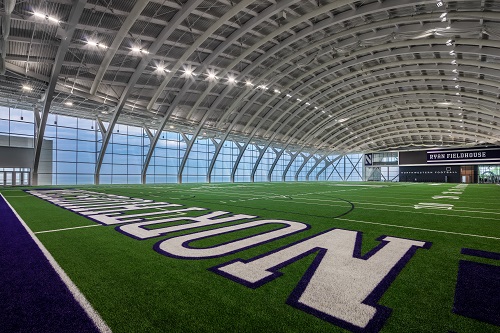 Photos by C&N Photography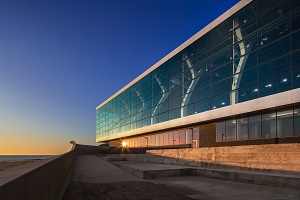 The basics: Northwestern University's Wildcats have a new sports facility, the Ryan Fieldhouse, featuring a glass façade and situated on Lake Michigan. The facility houses a full-sized indoor athletic field that allows the University's student athletes to practice during inclement weather. Other amenities include new locker rooms for multiple Wildcats varsity programs and Wilson Field. The transparent wall system provides unobstructed views of Lake Michigan.
The players: Architect, Perkins + Will; general contractor, Barton Malow Co. / Walsh Joint Venture; contract glazier, Novum Structures LLC; glass fabricator, GnT
The glass and systems: Novum Structures LLC engineered, furnished and installed the structural glass façade of the Ryan Fieldhouse. The transparent wall system includes 7-foot tall glass panels and minimal overall system depth for the 30-foot spans between building structures.
The main façade support structure is a horizontal steel system made up of Novum architecturally exposed steel system hollow structural section members hung from above by Novum stainless steel tension rods. The tension rods end at the first horizontal steel member, which leaves the bottom row of glass unobstructed, allowing for clear views of the lake.