Great Glazing: Saint-Gobain North American Corporate Headquarters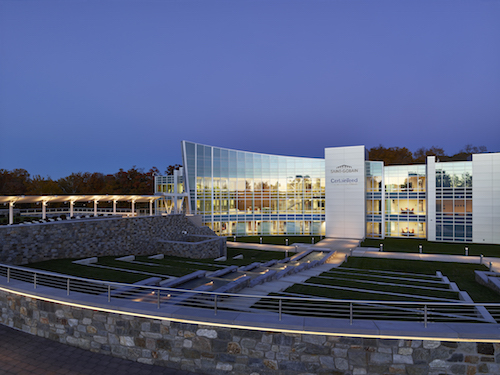 Photos © Jeffrey Totaro, 2015
The basics: After an 18-month renovation to transform the long-dormant site, located at 20 Moores Road in Malvern, Pennsylvania, the 277,000-square-foot Saint-Gobain North American Corporate Headquarters opened Oct. 15, 2015, on Saint-Gobain's 350th anniversary. The former building infrastructure was demolished to the structural system and reused in the new design.
The headquarters maximizes the comfort and health of employees using a wide range of the company's building materials. The project's glazing systems, including electochromic and other thermal control glass, are key to achieving these goals. Inside, the boardroom features switchable privacy glass. Saint-Gobain selected the products to achieve energy efficiency, sustainability, indoor environmental quality, acoustic and aesthetic goals.
Roger Watson, vice president, sales and marketing, Saint-Gobain, says, "It's a complete glass building with very little obstruction. The combination of [electrochromic glass] with regular glazing optimizes the connection between outside and inside. It's really enjoyable to be there, and it shows what glass does."
The players: Architect, Bernardon (exterior and lobby); general contractor, D. Fickler Construction LLC; contract glaziers, Malvern Glass (exterior) and Reilly Glazing (interior); glass fabricator, SageGlass; glass manufacturer, Saint-Gobain
The glass and systems: SageGlass, smart electrochromic glass, is installed on the western and southern elevations of the façade and plays an integral role in helping parent company Saint-Gobain achieve its sustainability goals, while creating a next-generation workplace that puts employees' comfort first. The façade features 17,000 square feet of SageGlass, marking one of the largest installations of electrochromic glass to date.
The electrochromic glass incorporates SageGlass LightZone technology with three different zones of tinting within one pane of glass to maximize daylight and allow employees to enjoy unobstructed views of the natural environment. In the interior at right, the glass is at full tint in the top zone with 1 percent visual light transmission, the middle zone at 6 percent VLT and the bottom zone at 60 percent VLT or clear.
Saint-Gobain Glass Cool-Lite SKN163II is used in most of the building's common-area façades, providing an optimal light-to-solar gain ratio in summer months and excellent thermal comfort during cooler periods, thus reducing both cooling and heating loads. Cool-Lite SKN163II has a high-performance curved temperable double silver coating that allows the light through while reducing solar heat.
The project aligns with the company's sustainability goals of energy efficiency, environmental stewardship and healthy working environments. The headquarters achieved LEED Platinum certification for both commercial interiors and core and shell.