Great Glazing: SEPTA Downtown Link, Philadelphia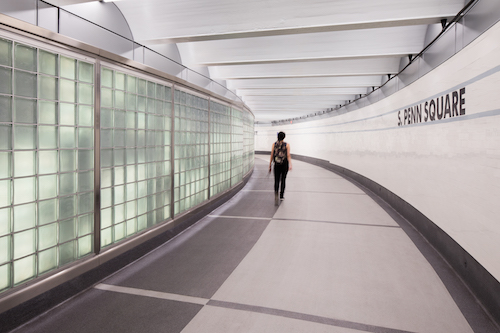 Photos by Charles Uniatowski Photography, courtesy of EXTECH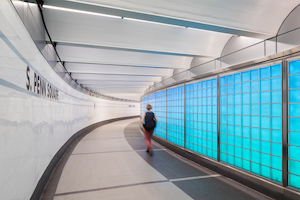 The basics: This summer, the Southeastern Pennsylvania Transportation Authority completed the first phase of Philadelphia's Downtown Link, its Center City concourse improvement program to upgrade the underground pedestrian tunnel network. The Downtown Link connects six subway stations, two regional rail systems, and comprises more than 500,000 square feet of space. Enhancements made during this phase of the project include an innovative, backlit, glass block "active" wall system. The walls unify the concourse, forming a series of interchangeable modules with color changing lights that simulate movement and transparency. The wall system is resistant to impact, graffiti and vibration. The multi-colored glass walls are also intended as wayfinding elements, helping to direct passengers to their destinations above and below ground. Design priorities included durability along with easy removal for inspection and maintenance.
The players: Architect, Sowinski Sullivan Architects; general contractor, AP Construction Inc.; contract glazier, DHC Construction Inc.; glass supplier, Exterior Technologies Inc.
The glass and systems: The glass block wall system was manufactured by Exterior Technologies Inc. and installed by DHC Construction Inc. A minimal amount of exposed metal framing was specified to maximize the glass surface area and to blend with the concourse's existing, mortared glass block walls.
EXTECH developed a 1.5-inch glass block, joggled-set, modular system arranged in vertical panels with a narrow aluminum frame along the top and bottom. Up to seven vertical panels, each at 7 feet tall by 8 inches wide, are interconnected within a dry-glazed wall section. Each vertical panel weighs approximately 70 pounds, which a qualified person can safely lift.
Wall sections vary in size and placement, with some spanning full corridors and others integrated between maps and signage.