Great Glazing: The Sheffield Group Legacy Headquarters Building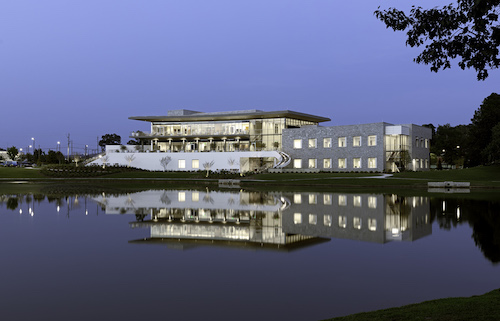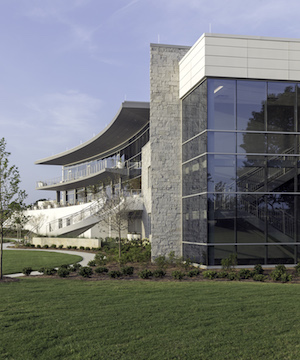 The basics: Completed in July 2018, the Sheffield Group's headquarters is a 40,000 square-foot building that now houses all employees of the workers' compensation provider under the same roof. Large expanses of glass provide light and views of surrounding lakes. Located in Hoover, Alabama, the former facility divided the company's six departments across two buildings, something the family-owned and operated company wanted to change. With its increased focus on natural light, good health and employee comfort, glass served as a focal point in the design of the new structure. Glass also played an important role in the building's symbolism. Because the company is owned and operated by three generations of the same family, architects selected three different principle materials to reflect its story.
The players: Architects, TurnerBatson; general contractor, JohnsonKreis Construction; contract glazier, Sunbelt Glass Inc.; glass manufacturer, AGC Glass North America; glass fabricator, Trulite Glass & Aluminum Solutions
The glass and systems: The design incorporates low-tint, neutral color glass which limits visible light transmittance, reduces glare, and creates a healthy work environment, according to Michael Mann, senior project architect, TurnerBatson.
AGC Glass North America supplied approximately 8,000 square feet of Stopray Vision 50T solar-control glass played to the new headquarters building. It has a very neutral blue-grey aesthetic and soft reflectance of 20 percent.
Material symbolism was important for the design. Mann says, "The gray granite represents the company's founder and signifies permanence, while the glazing and metal panels represent the youngest generation and their forward-thinking aspirations."