Great Glazing: Strasbourg Cathedral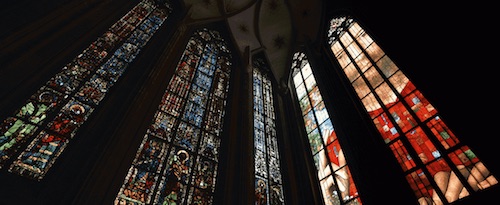 Photos courtesy of Saint-Gobain (above) and Dip-Tech (below)
The basics: The Strasbourg Cathedral, whose cornerstone was laid in 1015 and completed in 1439, has since 1683 been missing part of its stained glass artwork. On the occasion of the Cathedral's 1,000th anniversary, it was fitted with two new large stained glass windows, composed of 40 panes of digitally printed glass. Completed in September 2015, the 7.8 meter high photomontage was designed to blend with the historical stained glass and printed on glass slab.
Artist Véronique Ellena described her goal as conveying "the beauty and diversity of the world" on glass. She photographed everyday people who came to the cathedral. The end result is a montage of 150 faces that Ellena photographed on one of the windows (far right) and an homage to nature on the other (right).
The players: Designer, Véronique Ellena; master glassmaker, Pierre Alain Parot; glass supplier, Saint-Gobain; glass printer, Dip-Tech
The glass and systems: An historic site like Strasbourg Cathedral required artwork both contemporary and traditional, as well as functional and durable.
The restoration involved Ellena, master glassmaker Pierre Alain Parot, and the team at Saint-Gobain Glasssolutions, who used a Dip-Tech digital ceramic in-glass printer to achieve an historic look that blends with the cathedral's façade and the original stained glass.
Ellena, together with Saint-Gobain Glasssolutions and Dip-Tech, converted her graphic images into a file formatted for printing directly on glass. Saint-Gobain printed the artist's designs on 40 glass panels in the two bays.
In addition to creating colorful, detailed images, the artist wanted to ensure longevity for the project. "It was clear to us from the beginning that ceramic colors would need to be infused into the glass, as organic inks would not stand the exposure to air and humidity," says Jean-Francois Outin, interior & design market director at Saint-Gobain.
Parot, the technical advisor to Ellena from the beginning of the project, created a blown glass second skin to apply over the printed imagery. The stained glass further enhanced the image and feel, enabling the new windows to blend with the existing Gothic artwork.
Working for the first time with digitally printed glass, Parot said, "The ability to reproduce photos on the glass with a sustainable technology allows the traditional stained glass painter to enter a new era."
"We're impressed by what our partner Saint-Gobain was able to achieve—successfully bridging the artwork from millennium to millennium," says Dip-Tech CEO, Alon Lumbroso.
A video about the glass fabrication is available here.