Great Glazing: Tecnológico de Monterrey Student Center and Library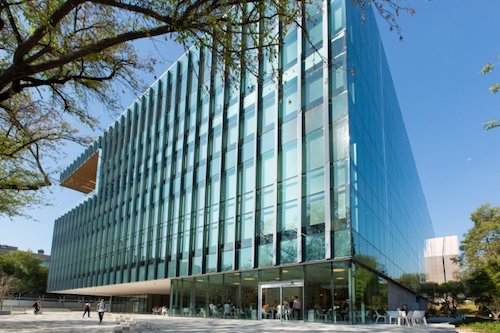 Photos courtesy of Vitro Architectural Glass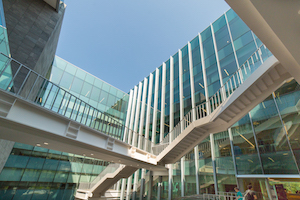 The basics: With 31 campuses in 25 cities, Tecnológico de Monterrey is the largest university system in Mexico. Built on the site of the school's original library, the new student center includes a bookstore, café and retail space on the ground floor and sprawling open terrace on the top floor with spectacular views of Cerro de le Silla (Saddle Hill) in the distance. Sandwiched between are four floors of study space, with an emphasis on technology and collaborative learning on the lower floors and quiet study and contemplation on the higher floors. Design goals included creating a space that would "feel like a treehouse," according to project architects. That goal produced a multi-faceted, multi-story, glass-walled structure that soars into the school's tree canopy while providing unobstructed views of Monterrey and its majestic mountain backdrop.
The players: Architects, Sasaki Associates, GLR Arquitectos, rdlp Arquitectos; general contractor, GAYA; contract glazier, VICRION; glass manufacturer, Vitro Architectural Glass; glass fabricator, Vidrios El Castillo
The glass and systems: Huge floor-to-ceiling windows facilitate activities within the library while functioning as a central beacon for the rest of the campus. The glass optimizes solar performance and daylighting for the library, reducing demand for artificial lighting and air conditioning.
Windows are fabricated with Solarban 90 solar control, low-emissivity glass by Vitro Architectural Glass. The quad-silver-coated glass combines solar control performance with the neutral aesthetic of clear glass required by the project. The glass has a solar heat gain coefficient of 0.23 with visible light transmittance of 51 percent, producing a light to solar gain ratio of 2.22.
The library has received awards from the American Library Association and International Interior Design Association.