Great Glazing: Terminal F, Philadelphia International Airport

Photos courtesy of Tom Crane Photography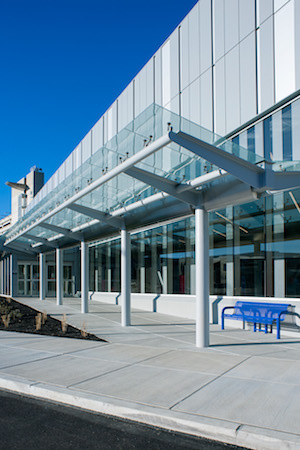 The basics: Despite being the Philadelphia International Airport's second newest terminal, Terminal F, which opened in 2001, needed significant improvements to accommodate increased traffic and improve passenger experience. Improvements in the $161 million, multi-phase project include a new baggage claim building, security screening checkpoint and secure-side passenger corridor, as well as an expansion of the terminal's central hub. The 34,000-square-foot baggage claim building features a striking geometric appearance. Clad in a mix of glass and metal, the two-floor facility provides abundant natural daylighting. Terminal F's ticketing building includes a glazed mezzanine that transforms an existing public walkway into a secure corridor that connects Terminal F to the airport's other terminals, previously accessible by shuttle bus only.
The players: Architect, The Sheward Partnership; general contractor, Skanska; contract glazier, R.A. Kennedy & Sons; glass manufacturer, Vitro Architectural Glass; glass fabricator, J.E. Berkowitz; interlayer suppliers, Kuraray, Eastman
The glass and systems: J.E. Berkowitz fabricated more than 7,000 square feet of glass for the project, including a silk-screened glass façade and a point-supported glass canopy and wall.
The baggage claim building features 141 Winduo insulating glass units in 125 intricate shapes and sizes. The IGUs incorporate 3,800 square feet of low-e Solarban 60 glass on Starphire Ultra-Clear glass by Vitro Architectural Glass, paired with JEB's custom Enviroscreen silk-screened glass on Starphire Ultra-Clear glass.
JEB also fabricated an Invisiwall point-supported glass canopy spanning the building's outside pick-up zone. The 860-square-foot canopy incorporated Enviroscreen silk-screened glass, laminated with Kuraray's SentryGlas Plus interlayer and tempered glass.
As part of the secure corridor project, JEB fabricated an Invisiwall point-supported glass wall with 2,400 square feet of Fusion laminated glass. The 128-inch tall panels alternate between clear and blue glass, providing an unobstructed view and maintaining airport security. The blue glass incorporated a Vanceva interlayer in "true blue," from Eastman Chemical Co., matching other decorative blue glass used throughout the terminal.