Great Glazing: Tyson's Corner Center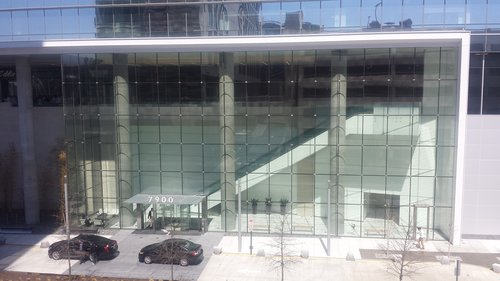 The basics: A new structural glass curtain wall flanks the Tyson's Corner Center in Fairfax, Virginia. Because of the relatively high flexibility associated with cable walls, standard engineering practice in the industry is to use a vertical column support at the right angle corner to increase stillness and avoid glass-to-glass collisions. However, on this project, the design architect insisted on removing the vertical column and replacing it with another cable in order to enhance transparency at the corner. To accommodate, the contract glazier developed an innovative connectivity method that allowed adjoining glass panels that were 90 degrees to one another, to move together in avoiding a collision.
The players: Architect, Gensler Associates; general contractor, Harvey-Cleary Builders; contract glazier, Novum Structures; glass fabricator, Viracon
The glass and systems: The cable wall, designed and installed by Novum Structures, is clad with insulating structural glass, At 49 feet tall, the wall features a 90-degree corner with uneven legs that measure 43.5 feet and 105 feet. The structural glass wall is supported by stainless steel vertical cables and it is glazed using a Novum CCG-System stainless steel corner clamped connection system. All glass panels are low iron and insulating with a low-emissivity coating on the No. 2 surface.