Great Glazing: Uría Menéndez Law Headquarters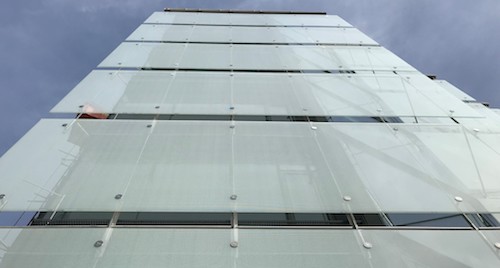 Photos courtesy of Tvitec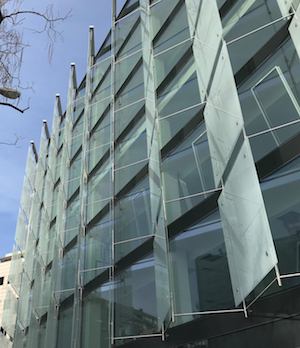 The basics: The new headquarters for the Uría Menéndez law offices is located in Madrid, Spain. More than 2,000 square meters of architectural glass transformed both the appearance and energy efficiency of the old building. This high-performance glass contributes to the bioclimatic façade that the architects designed, assisting natural ventilation in summer and retaining heat in the winter. The lamination further enhances the glass's safety and soundproofing properties, necessary in this central, noisy section of Madrid.
The players: Architect, Rafael de La-Hoz; general contractor, ACR Rehabilitacion SA; contract glazier, Proinller Glassfield Projects (Proyectos de Ingeniería Llerena s.l.unip); glass manufacturer, Saint-Gobain; glass fabricator, Tvitec; interlayers, SentryGlas; metal systems supplier, Schüco
The glass and systems: In addition to glass panes, six oversized units are visible on the building's main façade. The inner skin of the façade is made of insulating glass units which serve as a support to the large units.
Saint-Gobain provided Planitherm XN II on low-iron glass for the oversized units and SKN 076 for the IGUs.
Tvitec fabricated the glass panes for the building envelope, including the oversized units, which top the façade. These 10 by 3 meter glass panes are laminated, toughened and fritted.
Each oversized unit was laminated using SentryGlas interlayers to improve the safety and soundproofing of the building envelope. In addition, all lites were toughened, heat-soak tested and digitally printed with a white pattern to create a highly durable design.
Schüco supplied Inox AISI 316 metal framing for the project.