Great Glazing: The Vue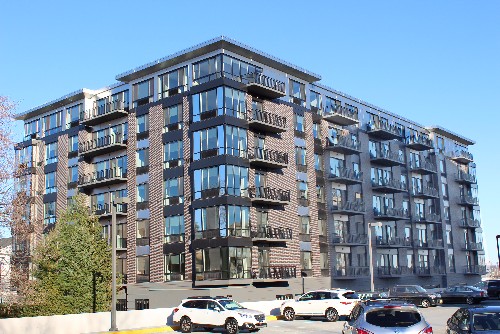 Photos courtesy of Crystal Window & Door Systems
The basics: The Vue in Hackensack, New Jersey, is a new luxury rental apartment building just outside New York City with a striking modern design. The seven-story mid-rise has outstanding views from all of its nearly 80 one- and two-bedroom apartments. To create its floor-to-ceiling glass wall view, 883 energy efficient windows and doors were installed in a variety of configurations.
The players: Architect, Virgona & Virgona Architects; general contractor & installer, Petrone Building Corp.; glass manufacturer, Vitro Architectural Glass; window and door supplier, Crystal Window & Door Systems; metal systems (louvers) supplier, Reliable Products
The glass and systems: Insulating glass units were specified with 3∕16-inch thick glass lites, Vitro Architectural Glass Solarban 60 low-emissivity coating and argon gas filling for enhanced thermal performance. The swing and sliding doors all use tempered glass, as do other windows where appropriate or required by code.
The aluminum window wall systems use Crystal Window & Door Systems Series 5600 two- and three-lite sliders, Series 5100 fixed windows, Series 1400 swing terrace doors, and Series 1240 sliding patio doors. Windows and doors combine using a variety of Crystal mullion systems, allowing the window wall to span building openings up to 212 inches in width and 96 inches in height.
Sixty-five Crystal Series 1240 aluminum sliding patio doors provide access to the apartment balconies. The project also includes 16 heavy commercial Series 1400 aluminum swing terrace doors with 1-inch IGUs, an advanced insulating thermal strut and an opening limit bar and multi-point lock system. Crystal furnished 250 aluminum louvers for the project, sourced from Reliable Products of Geneva, Alabama, for the apartment PTAC units.