Great Glazing: Washington University Olin School of Business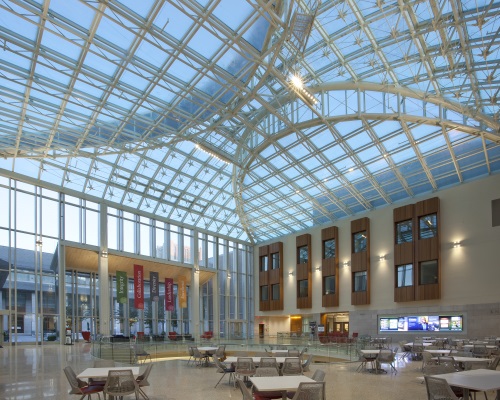 Photographer: William Lemke, courtesy of Super Sky Products Enterprises, LLC
The basics: Washington University in St. Louis celebrated the 97th anniversary of Olin Business School with the dedication of two new buildings: Knight Hall and Bauer Hall. Creating a welcoming atmosphere and a lasting impression, a five-story glass atrium crowns the two buildings. The 177,000-square-foot, $90 million project nearly doubles Olin Business School's footprint on the campus, creating an inviting space that unites the ensemble of buildings housing 11 classrooms, study rooms, a 300-seat auditorium, 75 faculty offices, lounges and other spaces to foster interaction.
Central to this inspirational facility is the Frick Forum, as described by James Kolker, assistant vice chancellor of campus planning and director of capital projects: "The atrium has become a vertical town square, while the open, flexible spaces that surround it invite connection and collaboration."
The players: Architect-of-record, Moore Ruble Yudell Architects & Planners; associate architect, Mackey Mitchell Architects; general contractor, Tarlton Corp.; skylight systems manufacturer and installer, Super Sky Products Enterprises LLC; glass fabricator, Viracon Inc.; finisher, Linetec; coatings manufacturer, PPG Industries
The glass and systems: Super Sky met the project's challenging goals, and its aesthetic and performance requirements, by manufacturing and installing the skylight systems in three sections. The largest section is an 88-by-91-foot custom vault skylight. A single slope skylight caps another section measuring 5 feet by 46 feet 5 inches. The final skylight is a 29-by-20-foot, custom curved, single slope system.
Linetec finished Super Sky's aluminum-framed, custom vault and curved skylights in Ivory, and the narrow, single slope in Bistro Bronze. These systems were painted using PPG's Duranar, a two-coat 70 percent PVDF resin-based coating. The resulting combination achieves the project's goals for transparency, durability and sustainability, including LEED Gold certification.
For clear views of the atrium's surroundings, the skylight features low-emissivity insulating, laminated, silkscreened Viracon VUE1-50 glass. In total, the skylights' total glass area is 11,150 square feet, with each of the hundreds of glass lites averaging five feet in length.