Great Glazing: William H. Gross Stamp Gallery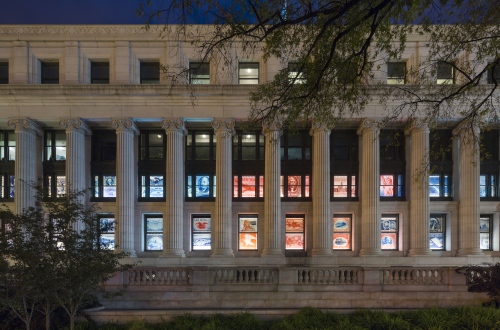 Photo by Albert Vecerka/Esto
The basics: The William H. Gross Stamp Gallery, a $66 million addition to the National Postal Museum at the Smithsonian Institute in Washington, D.C., features a striking display of digital imaging technology on glass. Architects for the project chose to feature stamp reproductions, in exacting color, on 54 illuminated windows on the exterior wall of the gallery. The window designs represent individual stamps on display inside the museum.
The players: Architect, Cho Benn Holback and Associates; general contractor, Clark Construction; glass manufacturer and fabricator, AGC Glass Co. North America; glazing contractor, Ridgeview Glass Inc.
The glass and systems: AGC Glass Co. North America supplied its Krystal Images glass for the exterior windows. The ultra-transparent glass utilizes high-resolution digital imaging technology and offers extremely accurate color saturation, according to officials. The high-resolution print technology of Krystal Images, made using 91 percent visible light transmittance Krystal Klear low-iron substrate glass, allows for images to display up to 1,440 DPI. The glass was combined with an outboard lite of Energy Select 63 low-emissivity glass to create an energy-efficient insulating glass unit. Approximately 1,500 square feet of the glass was provided for the project.
"The biggest challenge that AGC's Krystal Images glass solved was achieving the color accuracy of these rare, historic stamps," says the fabricator's Scott Cardwell. "Krystal Images can be manipulated to produce the perfect color, sometimes down to the pixel level."