Great Glazing: Windsor Park Co-op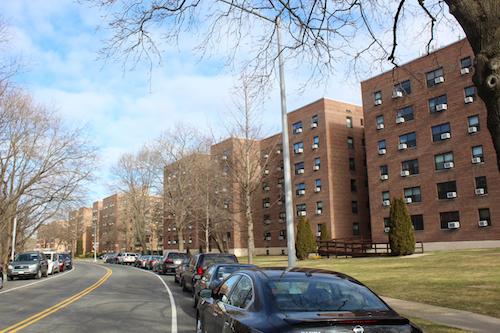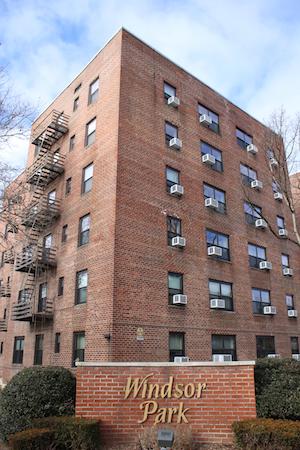 The basics: Windsor Park Co-Op encompasses 20 six-story apartment buildings spread over 46 park-like acres in the Oakland Gardens section of Queens, New York. With 1,830 apartments of various sizes, the window replacement work began in late 2017 and was only recently completed. All replacement work occurred while apartments remained occupied. Part of a major $22-million capital improvement effort undertaken by the Co-Op Association, the new windows needed to accommodate several thousand new window air-conditioning units. A project goal was to have the new air-conditioning units installed in a common fashion to provide a uniform, attractive exterior appearance for all buildings. A total of 14,000 energy-efficient replacement windows were needed for the complex.
The players: Design, Lawless & Mangione Architects & Engineers; general contractor, PMG Project Management Group; contract glazier, Ecker Windows; glass manufacturer, Vitro Architectural Glass; window supplier, Crystal Window & Door Systems
The glass and systems: Crystal Window & Door Systems partnered with installer Ecker Windows to replace the project's 14,000 windows.
The double-pane insulating glass units use double-strength thickness Vitro Architectural Glass Solarban 60 and clear glass with argon gas filling. Bathroom windows were specified with obscure glass.
The Crystal Series 2600 aluminum double-hung was the predominant window used for the project. The 3 ¼-inch frame depth window has tilting sashes, a ⅞-inch IGU pocket and an AAMA rating of CW-PG50/HC50. Several thousand side-by-side units and several hundred quadruple and quintuple horizontally combined units use the model line's continuous master frame option. Basement windows are Series 2300 2-light sliding and Series 8530 project-in hopper windows with dual-pane tempered IGU glass.
Crystal fabricated the windows that would have air-conditioning units, whether single or in twin combinations, in an oriel style. Ecker adapted the oriel windows and supplied insulated panels cut to fill the open gaps and fit the new units.