Great Glazing: Yanmar America Evo Center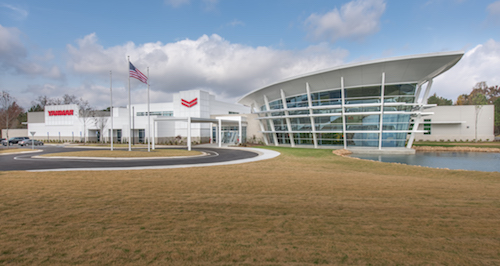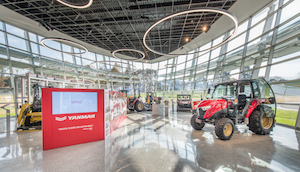 The basics: Yanmar Corp.'s 50,000-square-foot multi-purpose facility in a small suburb of Atlanta is designed to express the Japanese company's dedication to innovation and sustainability. The building is a multidimensional space that facilitates learning, community and product demonstrations for employees and the surrounding community. The project includes six product training labs, classrooms, offices, meeting rooms, a 250-seat auditorium, dining area, concept lab, and an outdoor product demonstration area. A 35-foot conical-shaped curtain wall is the building's centerpiece and allows the equipment to be displayed.
The players: Architect, CROFT & Associates; general contractor, Carroll Daniel Construction; contract glazier, Eastern Glass; glass supplier, AGC Glass; metal systems supplier, YKK AP America Inc.
The glass and systems: Columns were pulled away so the curtainwall could be seen as a transparent backdrop to the product exhibit. Challenges included creating a tall and dramatic curtainwall without adding extra structural components.
YKK AP America custom-manufactured the curtainwall using its YCW 750 structural silicone glazed curtainwall, which allows for a mimimalist and seamless look without a large sightline. The YES 45 and YES 60 thermally broken storefront systems with flexible mullions were incorporated to allow for the curved shape of the building.
AGC Glass supplied Energy Select 23 glass for the curtainwall.
The combination of products ensures energy efficiency and sunlight, creating a comfortable space that glows at night and shows off the Yanmar equipment.