GreatGlazing: "Sublimare," at the San Diego Airport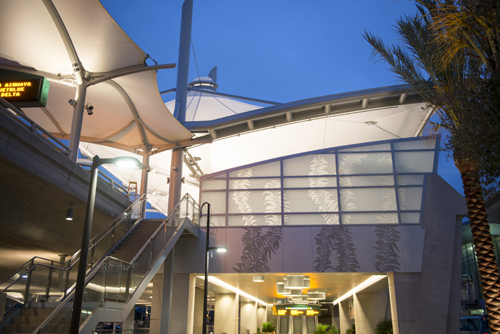 Photos by Merge Conceptual Design
The basics: Highlighting the Arrivals and Departure Plaza at the San Diego Airport is a large public glass art piece, "Sublimare." The artwork on the façade of the terminal pairs glass and aluminum panels of kelp leaf images, with a light projection that is synchronized with real time wave data from the San Diego bay. The leaf design, visible on the decorative art glass walls at the ends of the terminal's elevated walkways, continues onto the underside of the elevated departure roadway.
"Sublimare" is one of several major art installations added to the airport for its Terminal 2 expansion. More than $6 million was dedicated to public art projects at the terminal, according to the San Diego County Regional Airport Authority.
The players: Art installation designer, Merge Conceptual Design; Terminal 2 Expansion architect, HNTB; glass supplier, Triview Glass; glass installer, Vision Systems.
The glass: Triview Glass Industries achieved the design through custom translucent, screen-printed glass wall. The glass is laminated and insulating.