Great Glazing: Capital City Public Charter School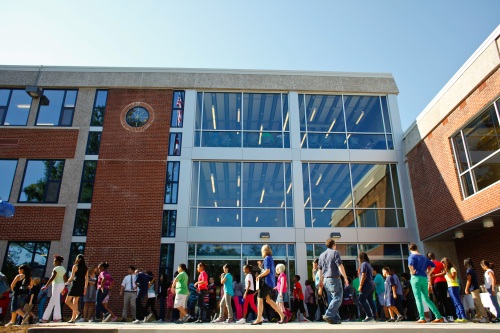 The basics: The Capital City Public Charter School in Washington, D.C., recently underwent a renovation and window replacement that helped the project receive a Gold rating from the U.S. Green Building Council's Leadership in Energy and Environmental Design program. Architects for the project opted for super energy-efficient triple-glazed windows that improve air and comfort quality, while reducing energy use and cost, according to an Intus Windows press release.
The players: Architect, Shinberg Levinas Architectural Design; general contractor, MCN Build; contract glazier, Ranger Glass; engineer, savings estimator, Setty & Associates International, PLLC; window supplier, Intus Windows.

The glass and systems: U-PVC (unplasticized-polyvinyl chloride) Eforte triple-pane window assemblies with two low-emissivity coatings. The glass U-value ranges from 0.08 to 0.106, and the solar heat gain coefficient ranges from 0.25 to 0.62 for any application, Intus reports.
According to MCN Build, the cost of the 600 windows in the Intus system were 30 percent less than the originally specified aluminum double-paned system, saving the builder and the school as much as $300,000 overall and $49,000 estimated savings in energy consumption per year.