Great Glazing: The Center for Care and Discovery Seventh Floor Chapel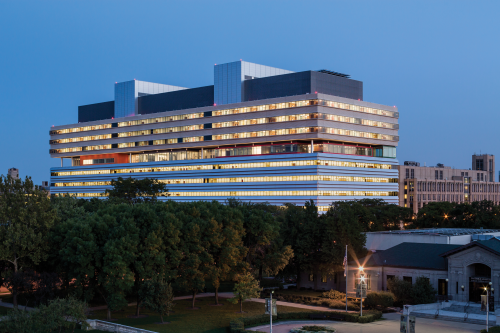 Photo by Tom Rossiter
The basics: The 10-story Center for Care and Discovery at the University of Chicago Medical Center includes an intimate, non-denominational 600-square-foot chapel that features custom fire-rated glass to provide safety and daylighting.
"Due to the proximity of an adjacent existing hospital building, a fire-rated separation at the facade needed to be provided within our new project," stated Joseph Cliggott of Rafael Viñoly Architects, PC. "We requested that the [glazing] contractor develop and UL-approve a custom pressure plate approach to simulate structural glazed installation."
The chapel features a clerestory band of windows, 12 feet, 6 inches above the finished floor and extending up to the finished ceiling at 15 feet, that is continuous all the way around the oval shape of the chapel space. Along with daylight, the windows also offer safety, particularly in respect to the hospital's location.
The players: Architect, Craig Bacheller, Rafael Viñoly Architects; fire-rated framing system manufacturer, Aluflam; glazing installers, Jim Koch, Klein Dickert; fire-rated glass supplier, Vetrotech Saint-Gobain

The glass and systems: Aluflam CW-EI60 one-hour exterior curtain wall with Vetrotech Contraflam 60 insulating glass units. The system effectively satisfied the fire-rating separation requirements as well as minimized the profile for the span of clerestory, allowing abundant natural light to wash horizontally across the plaster ceiling.