GreatGlazing: Darlington fire company 9/11 memorial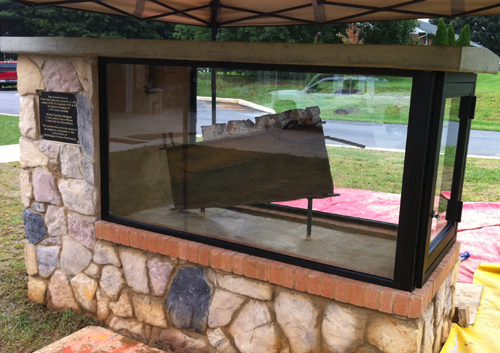 The basics: On the tenth anniversary of the Sept. 11 attacks, the Darlington (Md.) Volunteer Fire Company dedicated a 9/11 memorial at its new Dublin Fire Station. The memorial features a piece of steel from one of the Twin Towers, enclosed in glass. According to a Sept. 8 article from Explore Hartford: The Aegis, the memorial would not have been possible without the support and services from community businesses, including glass supplier Brown's Glass of York, Pa.
The players: Memorial designer, Marta Noe, Ebeling Noe Associates; installer, glass system fabricator, Brown's Glass; framing supplier, Tubelite Inc.; glass fabricator, United Glass Corp.
The glass and systems: Tubelite E4014/E4015 sash on the sides, glazed with ¼-inch clear tempered glass; a 48-inch by 48-inch Tubelite door, cut down to final size, also glazed with ¼-inch tempered glass.