GreatGlazing: JBGS Showroom, Merchandise Mart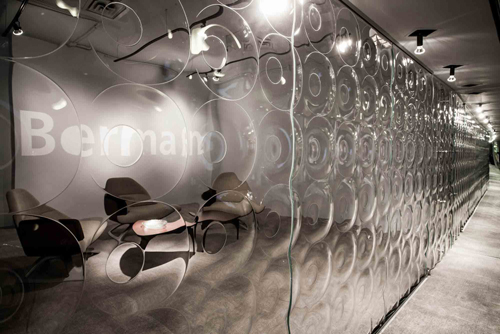 The basics: For the Joel Berman Glass Studios Showroom, Merchandise Mart in Chicago, company officials wanted to create and provide an environment entertaining to a showroom visitor while demonstrating the effects of the glass. Specifically, company officials wanted to demonstrate the possibilities of three-dimensional glass.
To achieve this at the showroom, the company specified a storefront partition wall and pivoting door using Olivia, three-dimensional textured glass.
The players: Designer, and glass and hardware supplier, Joel Berman Glass Studios; glass installer, Thorne Associates.
The glass: 12 millimeter Olivia textured 3D glass; 12 mm Ellisse textured glass.