GreatGlazing: Planet Hollywood, Las Vegas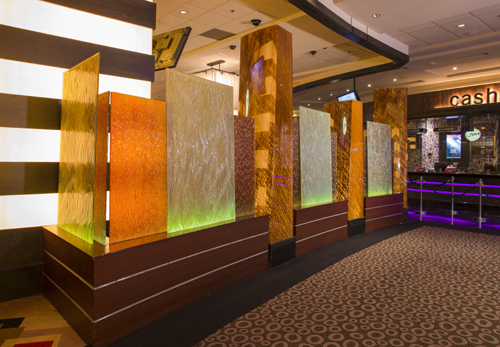 Photos by Jeff Green Photography.
The basics: Planet Hollywood, Las Vegas, looked to decorative glass to provide high-end style and privacy within the high-limit slot gambling area. "The architects needed a high-end, expensive-looking glass product to match the theme of the high-limits gambling area," says Barry Allan, president of Nathan Allan Glass.The company fabricated the glass for the project "which brightly illuminates the décor, while framing the gambling area and providing privacy," Allan says.
The players: Architect, Thalden Boyd Emery Architects; glass supplier, Nathan Allan Glass; glass installer, Avanti Glass & Mirror.
The glass: The project features handmade kiln-formed glass, in a range of colors and textures: Crystal Series Cognac, Gemstone Gold, and Citadel Dichroic. To create the products, panels of glass were melted over deeply textured molds, "so that the glass panel takes on the surface texture of the mold," Allen describes. The panels were safety tempered and polished. Lucent Cognac and Gemstone Gold color finishes were applied to two of the styles. For the Crystal Series, crystals were fused onto the panels. To create the Citadel Glass, hand cut dichroic pieces were attached to the Citadel surface, creating a color shifting visual accent.