Great Glazing: Sacramento Housing and Redevelopment Agency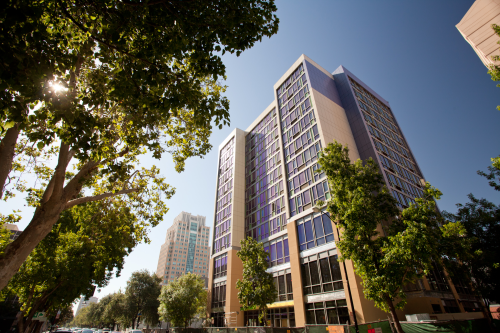 The basics: This 12-story, multi-use, public housing development is the home of the Sacramento Housing and Redevelopment Agency, and 108 units for the elderly and/or disabled. Constructed in 1975, the 98,000-square-foot building required significant upgrades. A $10 million American Recovery and Reinvestment Act grant, supplemented by $4.5 million from the SHRA, funded the project, which included a window and window-wall system replacement, among other repairs.

The players: Architect, Van Tilburg, Banvard and Soderbergh; general contractor, Turner Construction; glass fabricator, Northwestern Industries; glazier, Bagatelos Architectural Glass Systems; glass manufacturer, Guardian Industries; framing systems supplier, BISEM

The glass and systems: The building team chose Guardian SunGuard SuperNeutral 68 in clear for the building's 26,000-square-foot curtain wall. The glass for this project was produced locally at Guardian's Kingsburg, Calif., float glass plant. SN 68 has a neutral appearance similar to clear, uncoated glass, according to a Guardian press release. The product offers a visible light transmission of 68 percent and a solar heat gain coefficient of .38 that eases the load on the upgraded HVAC system, according to the release. The building's architects used metal window framing from the BISEM 6000 Window System product line and ACM panels from the BISEM Net Zero Envelope product line.