The Green Building Maze
A look at the complex world of green building codes, standards and certifications, and how they're changing building design
High-performance, sustainable construction continues to make impressive gains worldwide. According to the World Green Building Trends 2018 SmartMarket Report from Dodge Data and Analytics, green construction is expected to see "dramatic increases" between now and 2021. And, nearly half of respondents to the Dodge survey expect that the majority of projects will be green by 2021.
However, the path to better buildings can be daunting. The green building sector is mainly driven by a web of ever-changing codes, standards and certification programs pushing new performance requirements, setting higher benchmarks, and changing the way projects are designed and built. To compete in—and contribute to—the evolving green building industry, glass and glazing company leaders and project managers must understand the changing high-performance product requirements and be able to deliver solutions.
"What can the industry do? We need to continue to provide products with improved performance. We need to be tracking the requirements, understanding what the architectural community needs. We need to know what's going into our materials and be able to determine whether they are truly sustainable," says Lance Lawrence, architectural design associate, Viracon.
Additionally, industry representatives need to "be prepared to communicate the value of glass in high-performance buildings," says Tom Culp, code consultant for the National Glass Association, and owner of Birch Point Consulting. "When you're talking with architects, it's an opportunity to reiterate the benefits of glass. It's an opportunity to talk about daylighting, access to views—how glass promotes health and wellness and increases real estate values."
This article takes a closer look at the leading green building codes, standards and certifications, and how those programs are changing the industry.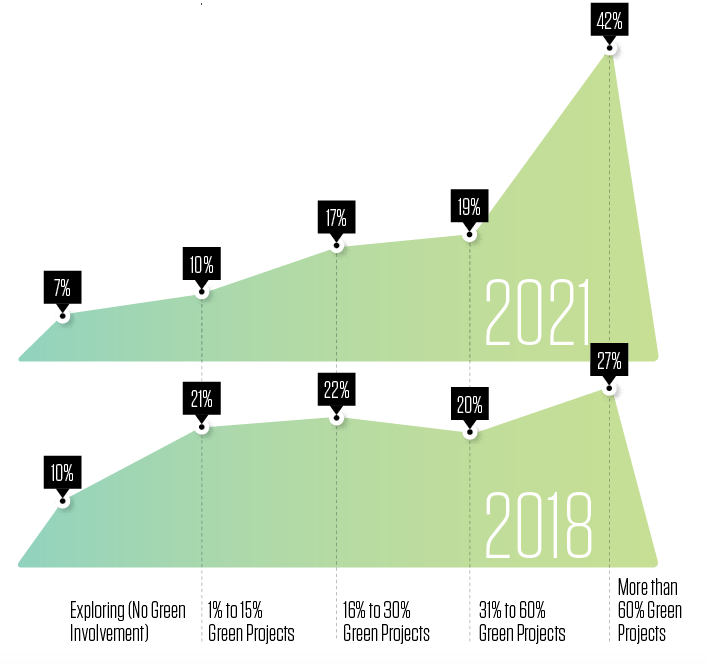 Above: Green Building Continues to Climb. Source: Dodge Data & Analytics, World Green Building Trends 2018 SmartMarket survey.
Part 1: Green Building Codes, Standards and Certifications
By the numbers
Global certifications of leading green building programs*
BREEAM, which was first launched in 1990, leads the way in global project registrations with 566,948 in 80 countries. While BREEAM operates a program in the United States, it is most active in Europe, and the vast majority of the registrations come from European countries. LEED, developed by the U.S. Green Building Council in 2000, comes in second with 93,800 certifications.
BREEAM 566,948
LEED 93,800
PASSIVE HOUSE 4,555
GREEN GLOBES (U.S. AND CANADA) 3,328
WELL 228
LBC 86

BREEAM
Building Research Establishment Environmental Assessment Method, breeamusa.com
BREEAM was developed in 1990 by Building Research Establishment, or BRE, a multidisciplinary building science organization based in the United Kingdom. BREEAM In-Use was developed in 2009 and is the BREEAM program for existing commercial buildings. It rates buildings based on performance benchmarks. There are no prerequisites. A building owner or their consultant measures performance using the BREEAM In-Use online tool, which generates an unverified score for the building. For certification, an independent BREEAM In-Use licensed assessor is hired by the client to conduct a site visit, verify performance and confirm the performance rating on a scale of one to six stars.
"BREEAM is the UK version of LEED. They would say they were the first [green building certification program]. They've been trying to bring the program to the U.S.," says Helen Sanders, strategic business development, Technoform North America.

Above: The new LEED Gold-certified Ent Center for the Arts at the University of Colorado, Colorado Springs, features solar-control, low-emissivity glass to maximize the building's energy efficiency, while meeting the architect's aesthetic goals. Vitro Architectural Glass, supplied its Solarban 90 glass for the project, which was designed by Semple Brown Design. Oldcastle BuildingEnvelope, was the glass fabricator, and El Paso Glass, the contract glazier. Learn more about this project. Photo by Tom Kessler.
LEED
Leadership in Energy and Environmental Design, new.usgbc.org/leed
Created in 2000 by the U.S. Green Building Council, LEED is used throughout North America as well as globally for virtually all building, community and home project types. To earn LEED certification at one of four levels, project teams must earn points outlined in the rating system by adhering to prerequisites and credits across nine measurements for building excellence from integrative processes, to building materials, to indoor air quality. The certification process takes place online and can occur upon completion of construction.
"When I hear about green certification, it's generally about LEED," says Tom Culp, code consultant for the National Glass Association, and owner of Birch Point Consulting. The program has been in effect in the United States for nearly two decades and has been used to certify about 94,000 buildings.
The latest version of LEED, LEED v4, notably increased the stringency of its requirements, according to industry officials. "LEED version 4 got harder to meet. The daylighting and view credits, in particular, were harder to meet. I have heard of people building to LEED, but not certifying," says Sanders. LEED v4.1, set to launch later this year, addresses some of those issues. "I understand that version 4.1 will reduce the stringency of the daylighting requirements," says Sanders.
ASHRAE 189.1 AND IGCC
ASHRAE 189.1, ashrae.org, and International Green Construction Code, iccsafe.org
Two leading model codes for green building, ASHRAE 189.1 from the American Society of Heating, Refrigeration, and Air-Conditioning Engineers and the International Green Construction Code from the International Code Council, consolidated into one model code for the 2018 version. The code—ASHRAE 189.1, Standard for the Design of High-Performance, Green Buildings Except Low-Rise Residential Buildings—contains minimum requirements for increasing the environmental and health performance of buildings' sites and structures. Generally, it applies to the design and construction of all types of buildings except single- and two-family residential structures, multifamily structures with three or fewer stories, and temporary structures.
"Glass wise, the major changes we see are due to the energy codes. There are more and more stringent requirements. The codes are really pushing the products or coatings that we're coming out with," says Lance Lawrence, architectural design associate, Viracon.
ENERGY STAR
The Energy Star Rating System, a government certification program from the U.S. Environmental Protection Agency and Department of Energy, uses a benchmarking method to assess a building's energy and water use. It is a voluntary program that provides tools and resources to businesses and organizations that want to strategically manage their energy use. Energy Star also has a product certification program. Canada also operates a version of the program, Energy Star Canada, run by Natural Resources Canada.
WELL
Launched in 2014, the Well Building Standard from the International Well Building Institute is a third-party performance-based certification program for buildings, interior spaces and communities seeking to implement, validate and measure features that support and advance human health and wellness. Well was developed by integrating scientific and medical research and literature on environmental health, behavioral factors, health outcomes and demographic risk factors that affect health with leading practices in building design, construction and management. The standard measures attributes that affect health, including air, water, nourishment, light, movement, thermal comfort, sound, materials, mind and community.
"Well requires you to not just think about building design, but also the building operations all the way down to how walkable it is, whether the stairs are located in a place where people will actually use them, or even the types of foods on offer," says Sanders. "The program includes a nice requirement for daylighting and views, which [reflects the program's] focus on quality of environment."
"We believe the industry will experience a significant growth in Well-certified projects. [Well] provides guidelines that minimize disruption to the body's circadian system, enhance productivity, support good sleep quality and provide appropriate visual acuity," adds Ryan Park, global head, marketing and product management, SageGlass.
LBC
The Living Building Challenge visualizes the ideal for the built environment. One of four programs administered by the International Living Future Institute, it is the most stringent. The program covers landscape and infrastructure projects, partial renovations and complete renewals, new construction and community design. Living Buildings must demonstrate that they have achieved net positive energy, net positive water and net positive waste. Certification requires actual, rather than anticipated, performance demonstrated over twelve consecutive months. The program works in combination with LEED.
"The Living Building Challenge reflects the push for actual, true sustainability—the push for net zero. It is starting to catch people's eyes," says Max Perilstein, owner, Sole Source Consultants.
The program is considered the most stringent among many in the industry. "If LEED is a slight stretch [to meet higher performance requirements], the Living Building Challenge is a massive stretch. It is in ether when it comes to stringency," says Sanders.
Passive House
Passive House Certification is a program developed and run by the German independent research group Passive House Institute. The program is based on a voluntary standard that promotes building design and product specification that reduce a building's ecological footprint, resulting in high-performance buildings that require little energy for heating or cooling. The certification is applicable for residential and nonresidential projects. The Passive House Certification is not only available for buildings, but also for building components and professionals.
"Passive House certification is growing increasingly prominent in modern building and construction, which dictates extraordinarily strict new performance criteria, including thermal insulation, airtightness, heat and moisture-recovery ventilation, and the use of double- or triple-paned windows," says Joe Erb, commercial sales specialist for Quanex Building Products.
Sanders notes, however, that bringing the German Passive House program into North America presents challenges. "For one, [it measures] U-factor with a different calculation method. You have to figure out how to translate the European U-factor to something that works in the United States," she says.
PHIUS+
Passive House Institute US Certification, phius.org
PHIUS is a non-profit organization committed to making high-performance passive building the mainstream market standard. All building types are eligible. The PHIUS+ Certification program is built on the new, PHIUS+ 2015 passive building energy standard, cost-optimized by climate. A Quality Assurance and Quality Control program is performed onsite by third-party raters. Buildings consume 86 percent less energy for heating and 46 percent less energy for cooling, depending on climate zone and building type, when compared to a code-compliant building.
"Passive House in the U.S. has worked with the U.S. government, the government labs, to figure out how to make climate-specified products more economically viable," Sanders says. "We see more Passive House coming up in Canada, and this is a portent for what's happening in the U.S."
Green Globes
Green Globes is a building guidance and assessment program for existing buildings and new construction, with credits earned in different areas, including energy, indoor environment, site, water, resources, emissions and project/environmental management. The program originated in Canada, where it is run by the Building Owners and Managers Association Canada and was brought to the United States by the Green Building Initiative in 2004. The program has no prerequisites. A rating requires a Green Globes Assessor to perform an onsite assessment of the building. The first step toward certification is completing an online assessment survey.
ZEB
One of four programs administered by the International Living Future Institute, ZEB certification requires that one hundred percent of the building's energy needs on a net annual basis must be supplied by onsite renewable energy. No combustion is allowed. Certification is based on actual, not modeled, performance. Any building, anywhere in the world, can become certified. Zero Carbon Certification is a slightly less stringent sister program for existing buildings only, in which combustion is allowed.
C2C
The Cradle to Cradle Products Innovation Institute, a non-profit organization, administers the Cradle to Cradle Certified Product Standard. The standard provides designers and manufacturers with criteria and requirements for continually improving what products are made of and how they are made. It looks at products through five quality categories: material health, material reutilization, renewable energy and carbon management, water stewardship, and social fairness.
2030
Architecture 2030 established the 2030 Challenge in 2006, setting a goal for all new buildings, developments and major renovations to be carbon-neutral by 2030. To support the 2030 Challenge, the American Institute of Architects, created the 2030 Commitment Program, aimed at transforming the practice of architecture to respond to the climate crisis in a way that is holistic, firm-wide, project-based and data-driven. Over 400 A/E/P firms have adopted the 2030 Commitment, and firms from all over the country have been tracking and reporting projects since 2010, with over 2.7 billion square feet of project work reported in 2016 alone.
"It's great to see how many architecture firms are signing up for the 2030 Challenge," says Darijo Babic, architectural sales director, North America, Guardian Glass. "We're excited to help our customers design, build and retrofit buildings that are going to reduce energy consumption and improve occupant comfort."
Read about additional high-performance building programs.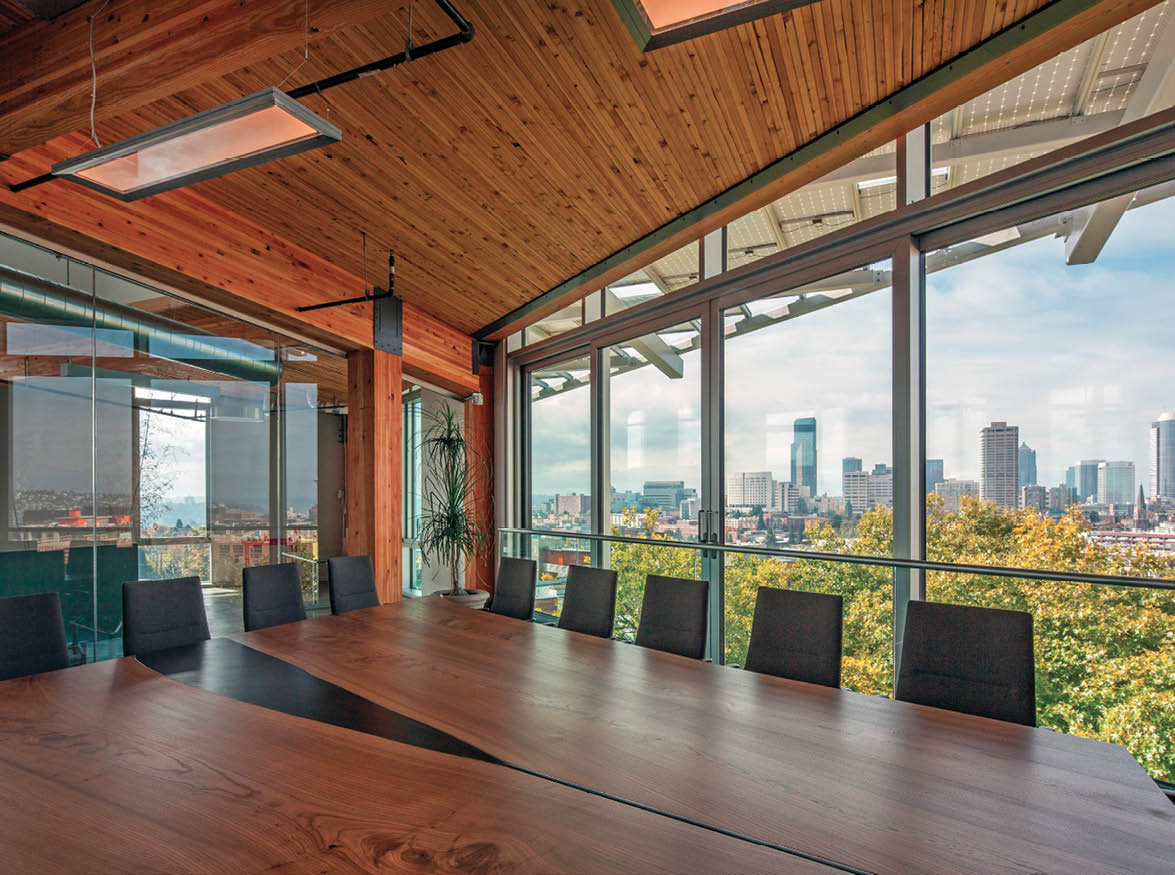 Above: The Bullit Center in Seattle was the first office building to achieve Living Building Challenge certification. Designed by The Miller Hull Partnership, the 50,000-square-foot office features hundreds of sustainable building products that allow the building to execute its core performance functions while generating or renewing, onsite, 100 percent of its energy, water and waste management functions. Schüco USA, designed the high-performance curtain wall, which was fabricated by Goldfinch Brothers, and features Solarban 60 solar control, low-emissivity glass from Vitro. The system incorporates triple-glazed insulating glass units fabricated by Northwestern Industries. Read more about this project. Photo by Tom Kessler.
Part 2: Green Building Trends to Watch

Product transparency
The industry continues its push for additional product transparency, driven by incentives and requirements in various certification programs, and even some calls for transparency at the legislative level. For example, the Buy Clean California Act, AB 262, will ask bidders on public works projects in California to submit an EPD, or Environmental Product Declaration, for specified flat glass products.
"Knowing what is in a product, where it comes from, how it impacts inhabitants and the environment, and product performance are critical considerations when designing a building," says Andre Kenstowicz, national architectural manager, Vitro Architectural Glass. In response, a number of industry companies have released EPDs and Health Product Declarations for their glass products (see resources at right).
Performance benchmarking
The next steps in green code development will be benchmark requirements and outcome-based codes, says Helen Sanders, strategic business development, Technoform North America. Benchmarking, which is newly required in places such as New York City and Chicago, requires building owners to post building energy use in a similar way to how restaurants post health inspection letter grades.
Benchmarking will allow the building community to have a baseline for building performance— "you can't manage what you don't measure," says Sanders. Additionally, it may act as an incentive to owners to improve their own building's performance. "You will have to disclose your performance, and you will try to make your property better than your neighbor's."
Outcome-based codes
The next step after benchmarking will be outcome-based codes that would require buildings to meet their intended performance targets, says Sanders. "Now architects will not just make sure their model beats code. They will be engaged past occupancy," she says. The outcome-based codes "will change behavior in all the right ways. [They] will make sure we're building better buildings. The architects are going to make the right choices up front. Higher performance products will get specified and will stay specified. We as an industry are going to benefit."
Holistic performance
Several green certification programs, such as Well Building Certification and the Living Building Challenge, continue to push for whole-building performance rather than individual component performance. "This is what the forefathers of the green building movement have always wanted," says Max Perilstein, owner, Sole Source Consultants. "They have always wanted the project to be green, not just the product. This is where we're headed."
New glass technologies
Energy codes are driving the glass industry to develop increasingly high-performance products, says Lance Lawrence, architectural design associate, Viracon. "It's changing the products we see. Technologies like electrochromics, photovoltaics, [vacuum insulating glass], all seem to have a space in the industry," he says.
Other products to watch include bird-safe glass and systems with continued improvements in thermal insulating, adds Kenstowicz.
Integrated design
Meeting those whole-building performance goals will require more integrated design and project team collaboration. "Guardian Glass recommends that architects and design teams adopt the integrated design process, IDP, for designing high-performance buildings, and we're starting to see this," says Darijo Babic, architectural sales director, North America, Guardian Glass. "IDP is a holistic approach that requires the project team to think of the entire building and all of its systems together, which means the team is working collaboratively to implement sustainability goals.
"Applied during the early project stage, building performance analysis tools such as energy modeling, daylight modeling, thermal comfort modeling and heat transfer analysis are all critical to helping the team select the appropriate glass products," Babic says.
Certifications in the codes
Green certification programs are popping up in jurisdictional building codes. "Several cities have made it a requirement for city-owned, publicly owned buildings to be LEED certified," says Tom Culp, code consultant for the National Glass Association, and owner of Birch Point Consulting. "Washington, D.C., went the farthest, requiring all buildings over a certain size to meet green code—LEED, ASHRAE 189.1 or IgCC."
Culp says there could be additional incentives on the horizon in some jurisdictions, such as tax incentives or expedited permitting for projects that meet certain green standards.