Heavy Lifting
Demand for larger sizes and heavier loads makes lifting and handling equipment a necessity for more glaziers
Recent design trends have introduced more complex systems, larger glasses and heavier units into projects of all sizes—from residential shower enclosures to all-glass skyscrapers. These more complicated products often require additional and more advanced equipment solutions. As a result, glaziers small and large increasingly turn to a growing range of handlers, lifters and manipulators to successfully and safely complete jobs. "The way the industry is changing—it's moving to equipment that can handle bigger, heavier products, and reach higher," says Tony Inman, president of Maeda USA.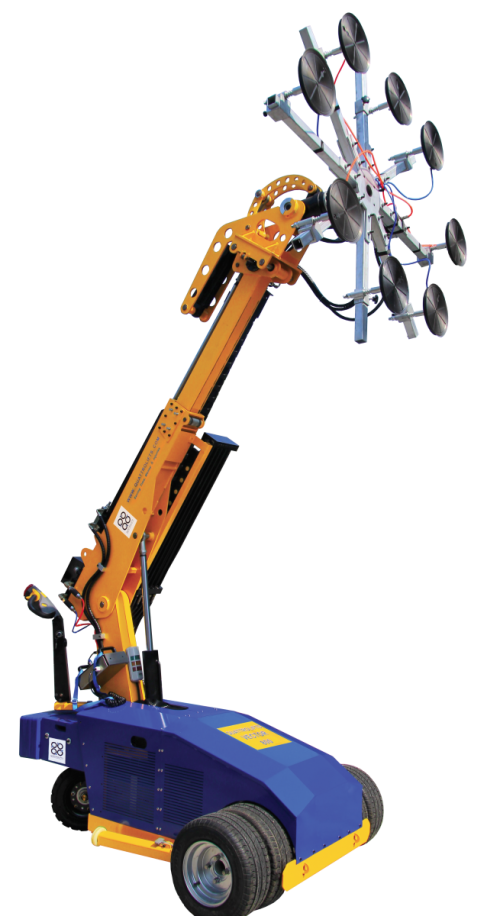 Above: In recent years, manufacturers of glass manipulators, lifters and handling equipment have developed machines that allow glazing contractors to lift heavier and bigger glass sizes even higher. Last year, Quattrolifts introduced the Vector 800, a fully automated robotic glass handling machine that can lift up to 1,760 pounds.
Rich Caudill, project manager for Jekko USA, sees the same changes. "The glass seems to be getting heavier, bigger, dimensionally. A lot of [architects] are using glass, and a lot more of it," he says. "We're seeing structural applications and larger sizes, heavy window-front glass and complex interlocking curtain wall systems. This is a growing market, with new designs and new concepts. Glaziers have to find a way to handle it."
Advancing equipment
To accommodate this demand, equipment suppliers developed products with increased load capacities. From mini cranes to manipulators to vacuum lifters attached to cranes or forklifts, handling and lifting products are carrying more.
"When I started with Quattrolifts, our machines were carrying 330, 340, 400 pounds. Now, it's 1,800 pounds. Our product line has innovated to follow what the architects are designing," says Chip Olson, head of U.S. sales, Quattrolifts.
Many suppliers have also developed systems that handle heavier loads, but manage to minimize the weight of the actual machine. "The challenge is making a lighter-weight manipulator that can handle more capacity," says Caudill. This combination allows for easier transport and storage, and increased flexibility on the jobsite, suppliers say.
Heavier loads have made counterbalancers more common, adds Barry Wood, vice president of marketing for Woods Powr-Grip. "Fifteen years ago, counterbalancers were only used for airport towers. Now, with larger units, you almost need [a counterbalance] to get the right hang angle of some really big pieces of glass or curtainwall," he says.
In addition to increasing weight limits, suppliers have extended their booms for increased heights and developed more sophisticated remote technologies for precise articulation, even from a distance.
"With the massive units, we're seeing radio remote controls that are moving the counterbalance back and forth, moving and tilting the glass," Wood continues. "They are doing everything you would do if you could reach the glass."
Safety and efficiency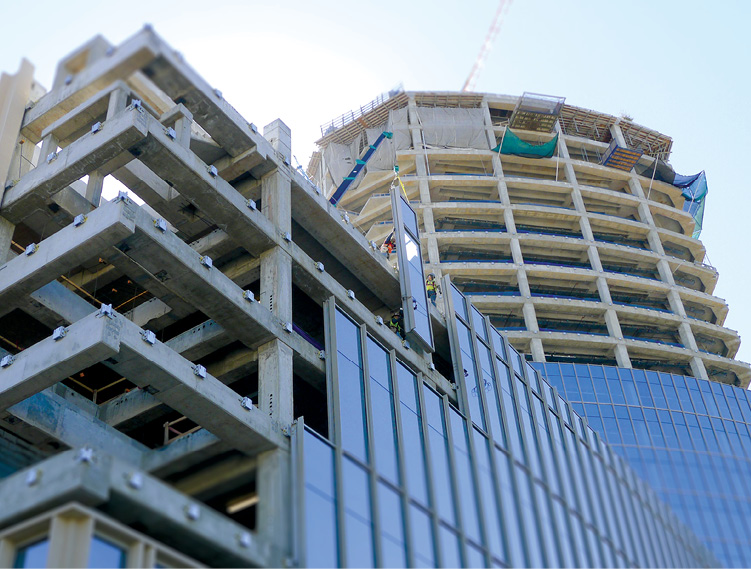 Above: Glaziers used a Maeda Mini Crane to place large unitized panels on a parking garage. The crane was located on the top floor and the panels were staged at lower floors until installation. The crane held the units through fixed rigging.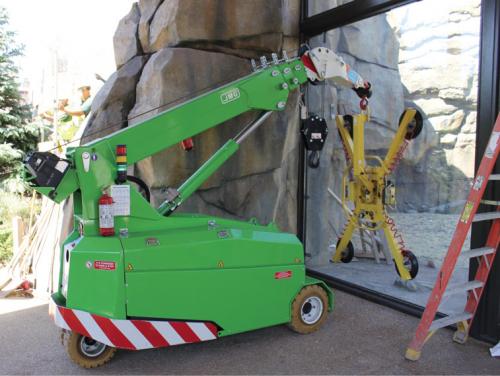 Above: A recent zoo project in Chicago required a JMG MC32 mini crane from JMG, a sister company of Jekko USA, and the MRT4 vacuum lift attachment from Wood's Powr-Grip, wpg.com. The glass pieces were 3,000 pounds each and were part of a polar bear enclosure at the zoo. Below: During GlassBuild America in September, Ergo Robotic Solutions promoted the GM2000-26 that allows users to place 2,000 pounds of glass up to 26 feet high.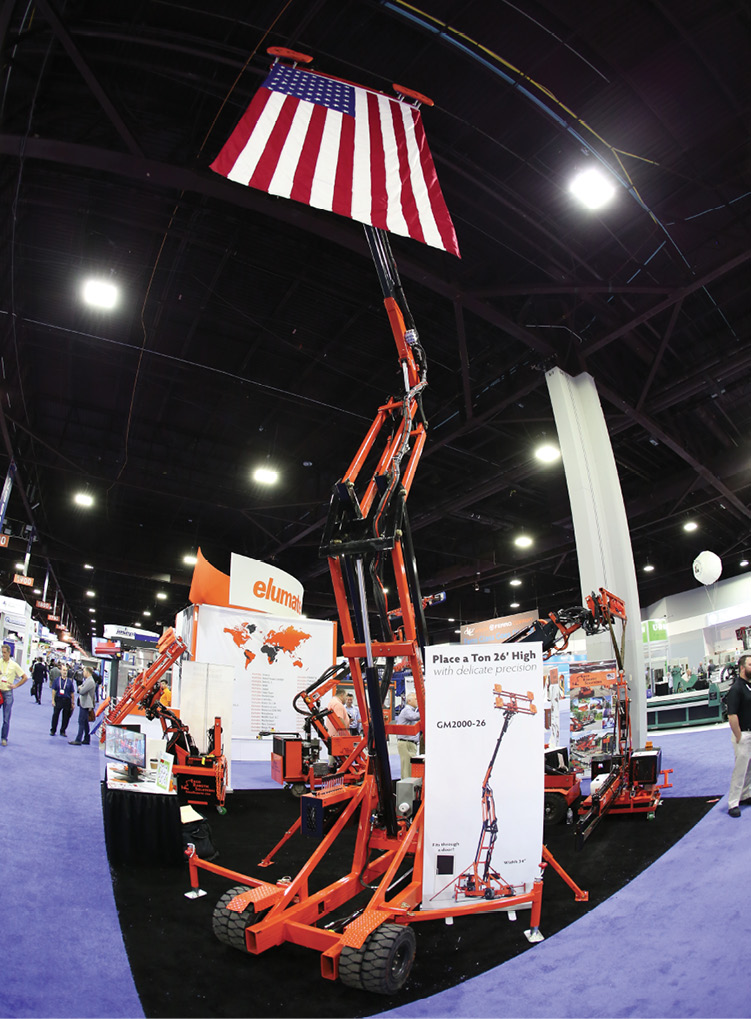 While product trends have been the main driver of advancements in lifting equipment, the tools also address two primary concerns among contract glaziers: ensuring worker safety and finding skilled labor. Safety and productivity are top priorities for firms as they look to grow into larger projects and do more with less, suppliers say.
In terms of safety, increased reliance on lifting equipment reduces worker injury and strain. "Safety is a big issue. It's something we focus on every time we design a lifter. It takes the load off the backs of the worker and puts it on the machine, on the crane. It makes the hardest job [for the glazier] screwing [the system] in," says Wood.
Additionally, the equipment allows companies to handle jobs with fewer workers. This eases the effects of the lingering worker shortage and provides economic payback, according to Olson. "You can be more efficient with the crews you have. A job that would have taken five or six people, now requires just two or three. [The equipment] will pay for itself," he says.
Seven Tips for Equipment Purchasing
1. Be specific about needs. Before purchasing, describe to the supplier the intended use for a piece of equipment, including details about size, weight and even jobsite conditions. This will ensure the equipment can successfully accomplish the intended jobs.
2. Plan for future jobs. Suppliers recommend customers purchase equipment that can handle their current maximum loads, allowing companies to grow into the equipment.
3. Factor in lead times. Custom equipment may require a longer lead time. Check with the supplier to ensure the equipment arrives before it is required on a jobsite.
4. Plan for storage. Some handling machines, particularly those with a heavier capacity, can take up substantial factory space.
5. Plan for transport. Consider how to transport equipment that will be used on the jobsite to the site, and how to get the unit on and off the truck. The equipment will also need to be transported to the appropriate place on the jobsite (the outside of the building, a specific staging area on a certain floor, on the roof, etc.).
6. Train employees. Work with equipment companies for training; use online training resources when available.
7. Consider whether to buy or rent. For companies that only require specific equipment for one or two jobs, renting may be the best option. Those that plan to use the equipment regularly will likely experience cost savings by purchasing equipment.
First-time users
The call for larger lites and heavier products on projects big and small means companies that previously handled tasks manually have a need for a lifter, manipulator or other handling equipment. But, purchasing or renting equipment for the first time can be daunting for a glazier, suppliers say. (For tips on purchasing handling equipment, see the sidebar, right.)
"We see first timers, new people, every year," Quattrolift's Olson reports. "When I see someone new, the priority is to educate them on what's out there and find what is going to work for them." Knowing what to expect and what information to provide can ensure the customer gets what they need.
Many first-time customers make the move to purchase lifting or handling equipment because they want to grow their business. "A lot of people who are buying or renting equipment have perhaps seen another contractor using our machine on the job. They call us, and I ask them a lot of questions," says Jerry Nudi, co-owner of Ergo Robotic Solutions. He encourages the callers to think ahead about what other jobs they might do to determine which unit might be best suited for them.
Austin Hagen, national sales, eastern division for Manitex International, also takes this approach. "We want to make sure the equipment spans their ability," he says, "allowing them to work on bigger projects."
The other class of first-time customers are those who need to purchase or rent equipment for a specific job. "A glazing contractor or the building envelope contractor … will have a job that they are bidding or that they were just awarded. We take the conditions that will exist on the jobsite—the size, dimensions, weight, the logistical situations, barriers ... and make a recommendation," Nudi describes.
Conveying the essentials
The best way for glaziers to ensure that their equipment acquisitions meet their needs is to provide thorough information to the supplier during the first call. Suppliers say they ask increasingly detailed questions about the needs of the customer (see below), whether the equipment is for a specific job or for anytime use. Sources agree that the more information a customer brings to the supplier, the better solutions the supplier can provide.
"We have machines that cover the whole gamut. Once we know exactly what the customer needs, we can eliminate 90 percent of the machines and steer them to what they're looking for," Olson says. "The last thing you want to do is sell a piece of equipment that they're not going to be able to use."
The detailed questions allow a supplier to "visualize the project and try to come up with any solutions that they need. We try to see the problems before they come up," adds Hagen.
Equipment to grow
Suppliers say lifting and handling equipment allows companies—no matter the size—to take on projects that were previously out of reach. They can tackle more jobs, with fewer employees per jobsite, and handle larger jobs with heavier product installations. And, with advancements in handling equipment, "the industry is seeing it's a smarter, safer and more efficient way to work," says Olson.
Nudi also points out that the equipment can help any business reach their potential or see what their potential could be. "You might have a smaller business that wants to grow," he says. "A piece of equipment can help them grow—something they didn't even realize was available."
Continue reading Heavy Transport.
Essential Questions
Equipment companies ask increasingly detailed questions about the needs of the customer to ensure the equipment will meet specific needs. Following are some initial questions contract glaziers can expect when they move to purchase or rent a piece of equipment.
Is the equipment intended to be a regular part of the company toolbox? If so…
Is the equipment intended for the shop or the jobsite?
How is the company currently handling its glass? If manually, why hasn't the company used handling equipment previously?
What are the types of installations the company completes?
What types of jobs might the company handle in the future?
Is the company looking to grow?
What are the maximum unit sizes the company currently handles?
What are the average sizes the company currently handles?
Is the equipment for a specific job? If so…
What type of job is it?
What are the dimensions of the glass? (Provide information for all units that will need to be handled with the equipment, and provide maximum, minimum and average unit dimensions.)
What is the maximum weight to be handled?
Will the equipment be used to handle unitized systems, insulating glass units or single glass lites?
Are there mullions or other elements of the system that could hinder use of vacuum cups?
How high and how far out horizontally must the equipment reach?
Will the glass be lifted from the floor? If so, are there any limitations on weight that the floor slab can accommodate?
Will the glass be lowered from above?
What are the jobsite conditions? Are there any challenging conditions that will require the equipment to lift over barriers or handle complex articulation movements?
When will the equipment be needed?