Heavy Transport
Six tips for the transport of large lites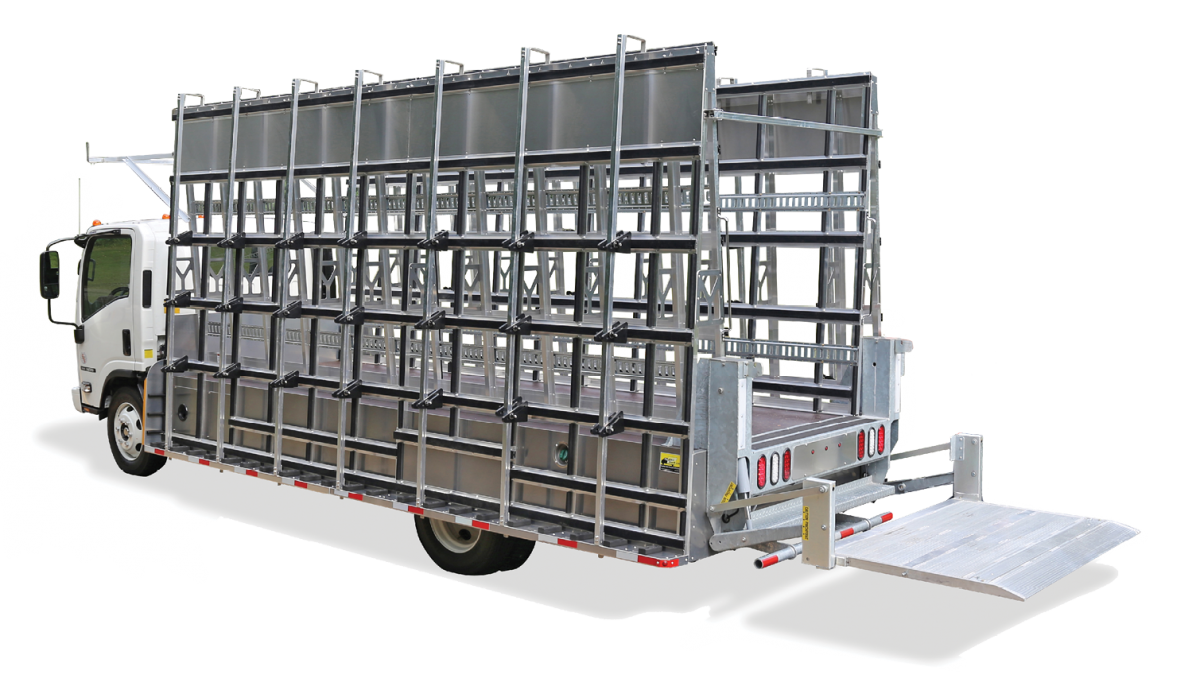 MyGlassTruck.com introduced the Atlas and Patriot (pictured) truck bodies to provide additional payload capacity over van and pickup racks. The truck bodies offer an interior deck and racks to handle larger, bulkier payloads, and have outer racks with continuous side ledges for transporting wide pieces of glass.
For glass companies and glazing contractors moving to larger, heavier glass sizes, transportation can present challenges. Traditional equipment for loading, unloading and transporting may not be sufficient for increased weights.
"The biggest transportation challenge for glaziers and glass shops is delivering these heavier, difficult-to-handle pieces of glass and assemblies to the jobsite undamaged and on time," says Michael Frett, sales director, MyGlassTruck.com. "Many are using smaller vans and pickup trucks with bolt-on racks to deliver and may not be able to efficiently handle the increased weight and size. Larger product takes more handling to load, secure and unload, which stresses schedules and increases the chance of damage."
To tackle heavier transport without the risk of damage, suppliers offer the following six tips and considerations for tackling heavier transport.
1 - Determine current capacity
Before looking at new equipment with greater capacity, companies should calculate the carrying capacity of existing vehicles, says John Weise, president of F. Barkow Inc. "We can back into that number by subtracting the chassis weight, the body weight, the fuel weight and the driver's weight from the gross vehicle weight rating. That will give a very accurate estimate," he says.
If a load surpasses the calculated truck capacity, do not attempt to carry the full load. Exceeding capacity can be dangerous, and potentially affect vehicle mechanics and rack performance.
2 - Know requirements and discuss with supplier
Once a company determines it requires a glass truck with greater capacity, it's important to work with a supplier to discuss goals and choose the appropriate glass transport equipment. Many suppliers offer custom solutions to ensure the truck and rack can handle all the load types and sizes the customer requires.
3 - Consider frame material
When dealing with heavier loads, frame material becomes a key consideration. Glass companies and glazing contractors should evaluate the pros and cons of framing material—stainless steel, aluminum or a combination of aluminum and steel. Stainless steel offers added strength, while aluminum is lighter weight.
"For heavier or larger products, we encourage the use of stainless steel in construction of the body," says Weise. "It looks great, won't rust and is three times stronger than aluminum."
MyGlassTruck.com, on the other hand, engineers aluminum racks over steel frames. The combination provides necessary strength while "minimizing payload capacity by keeping overall weight down," according to Frett.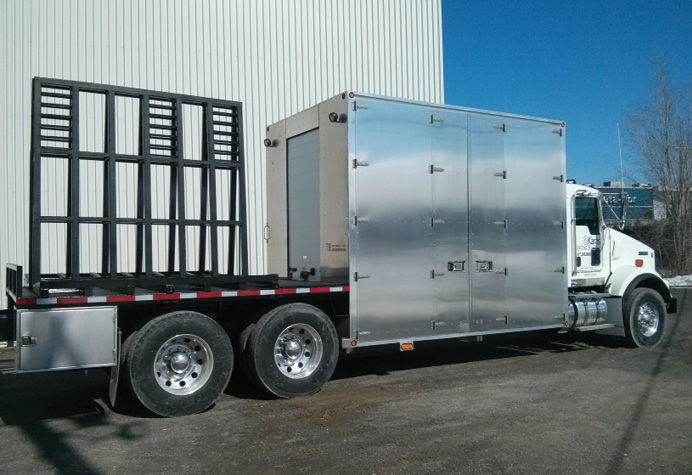 Above: Bromer Inc. offers A- and L-shape glass racks with a capacity of up to 60,000 pounds. The pictured A-frame rack for flat deck offers a 24,000-pound total capacity. The company also supplies a range of solutions for glass moving and loading, including a grabber and spreader bar, both capable of handling 10,000 pounds. Below: The Barkow Model P216-S from F. Barkow Inc. features a stainless steel 16-foot body and offers a payload capacity of about 6,500 pounds. The model includes 12 self-locking stakes, ship-lapped hardwood floor and "B" slats throughout for use with straps.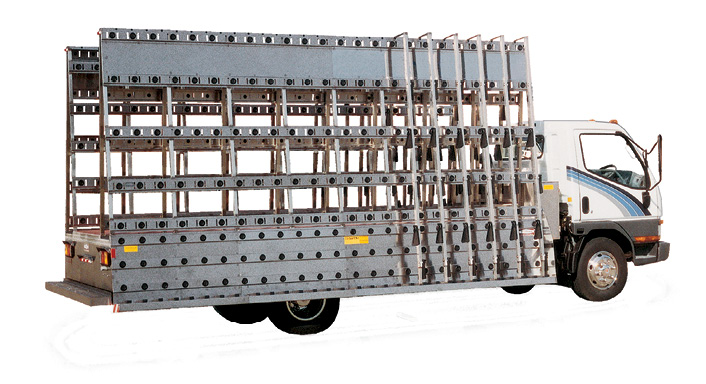 4 - Consider dimensions
For some companies, the issue of handling larger glass lites isn't the weight, but the size. Many traditional racks are not designed to haul oversized products. Suppliers can work with glass companies to develop custom racks to haul larger sizes on exterior racks and in the interior truck body.
"Barkow manufacturers truck bodies that offer 105 inches in useable height. However, everything we manufacture is custom, so taller or shorter dimensions are not uncommon," Weise says. "Loose lites are usually transported on the exterior racks. The interior of Barkow bodies are usually vertical with multiple horizontal rows of 'B' load-holding slats that accommodate pre-glazed units nicely when secured by straps."
5 - Think about loading and unloading
Increased sizes and weights may make loading and unloading more challenging for employees. Suppliers recommend customers discuss loading and unloading prior to ordering. "Some [customers] are interested in options that make loading and unloading easier, like lift gates and roll-out ramps," says MyGlassTruck.com's Frett. Similarly, Barkow offers ramps stored under the hardwood decking to allow for easy loading and unloading, Weise says.
Loading and unloading considerations should extend to the plant as well, says Jeff Perron, sales and purchasing manager for Bromer Inc. Bromer offers a grabber and spreader bar that each have load capacities of 10,000 pounds. The equipment allows staff to move glass more easily and safely onto racks in the plant, which reduces manual lifting, according to the company.
6 - Balance loads
In every stage of glass transport, from loading to delivery, companies should ensure a balanced load. Balance, already a necessity with smaller loads, becomes even more critical with large loads. Unbalanced loads tip more easily, risking injuries and breakages. Transport also becomes more difficult and dangerous with unbalanced loads.
Continue reading Heavy Lifting.