High-performance glass on Broadway Commons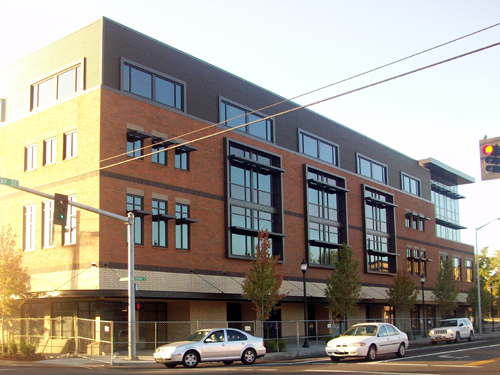 The basics: Broadway Commons, part of the Salem Alliance Church in Salem, Ore., is a mixed-use community center, health care facility and place of worship. The complex was designed to achieve a Silver rating from the U.S. Green Building Council's Leadership in Energy and Environmental Design program, and features large expanses of high-performance glass. A portion of this glass was used to enclose a prayer center, called The Upper Room, on the fourth floor that offers views of the surrounding hills, the State Capitol building and downtown Salem.
The players: Architect, project management, CB|Two, Salem, Ore.; glass fabricator, Hartung Glass Industries, Seattle; glass manufacturer, Guardian Industries, Auburn Hills, Mich.; glazing contractor, Dallas Glass, Salem, Ore.
The glass: 3200 square feet of SunGuard SuperNeutral 68 high-performance, solar-control coating on clear glass and 4300 square feet of glass with Guardian SunGuard SuperNeutral 54 high-performance, solar-control coating. The SuperNeutral coatings also allow for high light transmittance.