Industry Forecast: Strong but Slowing Economy for 2019
Glass companies remain optimistic in the face of labor shortages and rising prices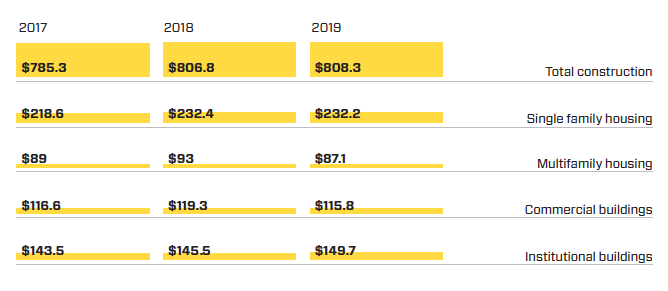 U.S. Construction Starts (Billions of Dollars): Overall construction spending is projected to remain fairly stagnant in 2019, with commercial spending expected to fall from $119.3 billion to $115.8 billion, and multifamily spending dropping from $93 billion to $87.1 billion. Institutional spending, however, is an expected bright spot, with forecasters projecting an increase in spending from $145.5 billion to $149.7 billion. Source: Dodge Data and Analytics.
The glass industry is riding high as it heads into 2019, with companies so busy they're having trouble finding workers to keep up with the demand for their services. But the question that seems to be on everyone's mind is: will 2019 be the year of the dreaded "R" word, recession?
The good news is a recession will most likely not happen in 2019, according to economists. The bad news is that the market is showing signs of slowing, with a potential recession on the horizon, according to several forecasters.
"If I were a betting man, I'd say 2020—early part of 2020—[has] the highest odds for a recession, based on the data we're seeing today," according to Cris deRitis, senior director, economics, and head of consumer research for Moody's Analytics, speaking this past October at the 2019 Dodge Construction Outlook Executive Conference, hosted by Dodge Data and Analytics. However, deRitis says that it will be "more of a garden variety recession," not like the major one that hit the economy in late 2007.
Robert Murray, chief economist of Dodge Data and Analytics, agrees that a coming recession will be milder than the one that preceded it. "I think because this has been a more measured upturn, when the downturn ultimately comes, in no way will it be a repeat of what took place in the 2009-2010 period, and actually, it's probably not going to be as severe as what took place in prior construction cycles," says Murray, who also spoke at the Dodge outlook conference.
Although a recession may be looming, there was still plenty to celebrate in 2018. In the second quarter of 2018, corporate profits were up $65 billion, or 3 percent, and consumer spending grew 3.8 percent. Unemployment stood at 3.7 percent in October 2018. The economy is experiencing the longest economic expansion on record in U.S. history, says deRitis.
Nevertheless, cracks are starting to appear in the economy. Growth is expected in 2019, but at a slower pace than 2018. GDP for 2018 was looking to be at least 3 percent, says Murray, while the prediction for 2019 GDP is 2.5 percent. He sees the construction economy as "rounding the peak," in a period of "deceleration," as opposed to "decline."
Cracks are also appearing in the construction economy. Overall construction starts in dollars were expected to rise 3 percent in 2018, the smallest increase in the last six years. Growth in many construction categories slowed, with a few exceptions, including multifamily housing and commercial building, which remained at an increase of 2 percent for both 2017 and 2018. In 2019, construction starts in dollars are expected to slow in all categories except institutional and manufacturing buildings, and public works, according to economists.


Annual U.S. GDP (Gross Domestic Product) Increases: Economists project a 3 percent increase in U.S. gross domestic product in 2018. However, in 2019, they expect a slight slowdown in growth, with GDP falling to 2.5 percent. Source: Dodge Data and Analytics.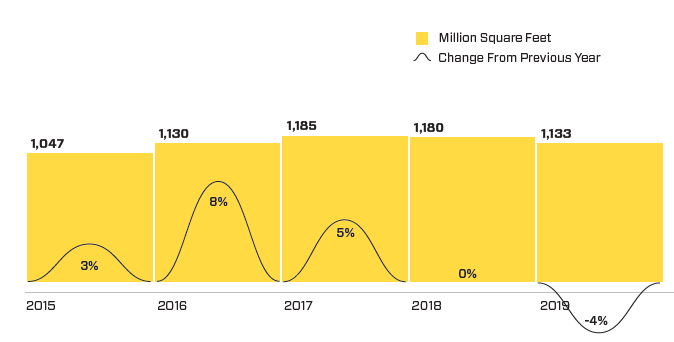 U.S. Non-Residential Building Starts: After a number of years of consecutive growth, U.S. nonresidential construction is expected to decrease 4 percent in 2019. Source: Dodge Data and Analytics.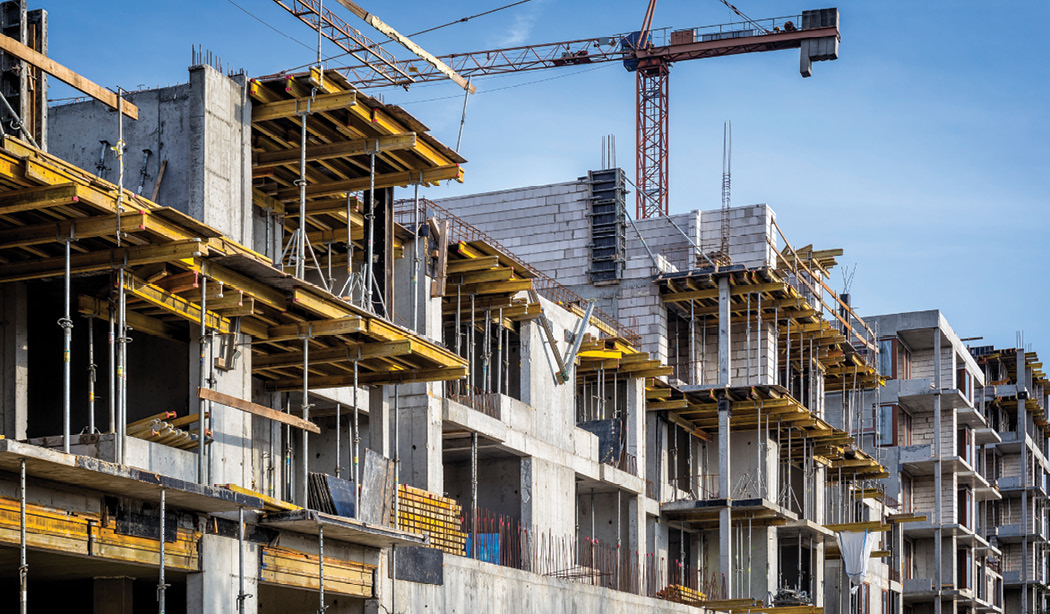 Nonresidential Construction
Heading into 2019, the nonresidential construction market is a mixed bag, with some areas showing declines, while other sectors are holding their own and even increasing. The 2019 Dodge Construction Outlook report predicts 2018 to post a 1 percent decline in commercial starts, but dollar value of those starts will inch up 2 percent. In 2019, starts will decline even further, a projected 7 percent to 704 million square feet, and dollar value will slip 3 percent to $115.8 billion. Some of the bright spots in the nonresidential market are hotels, schools and airports.
Offices
Office construction, a big driver of the glass industry, has "registered a slow and tentative recovery," according to the Dodge report. From a 2010 low, office starts increased 139 percent through 2017 to 135 million square feet, which was still 37 percent below the peak in 2007. However, office starts in terms of square footage were down 4 percent in 2018 through September, compared to the same time period the previous year. In 2019, office construction is expected to decline 3 percent to 139 million square feet, although dollar value of those projects will inch up 1 percent to $44.9 billion.
One factor putting a damper on the office construction sector is the trend of more workers telecommuting, according to Ken Simonson, chief economist of Associated General Contractors of America, who spoke at the webinar "Tariffs, Trade and Transition: Post-Election Design and Construction Outlook," hosted by ConstructConnect, in November. However, Dodge Data's Murray adds that the amount of alteration work in office construction has picked up in the last few years, becoming a larger share of the overall office-construction landscape.
Hotels
Hotel construction has rebounded strongly from the Great Recession, posting a 344 percent increase in starts from 2010 through the end of 2016, according to Dodge. This upward trend began to reverse in 2017 when hotel starts slipped 2 percent. However, in 2018, hotel construction showed a modest rebound, increasing 3 percent in the first 9 months in square-footage starts and 7 percent in dollar value. A strong economy and lower taxes on corporations and individuals have encouraged leisure and business travel, according to Murray.
In 2019, the path of hotel construction is expected to follow the waning economy. Hotel construction starts will drop 8 percent, Dodge predicts, and dollar value will fall 6 percent to $17.4 billion.
Retail
One especially weak area has been retail. In 2018, "despite healthy growth in the economy, employment, housing and retail sales, store construction has again been unable to make progress. … Given the boost that was expected from recent tax cuts, this result has been discouraging," according to the Dodge report.
The dollar value of store construction starts declined 5 percent in 2017 and another expected 9 percent in 2018, with a decline of 1 percent projected for 2019; declines in square-footage retail starts for these years have been even greater.
The reason for this weakness is consumers' growing love affair with online shopping. And there is still plenty of room for e-commerce to grow, as it only makes up 9 percent of total retail sales, deRitis says.
Schools
School construction made a strong showing in 2018, providing momentum to the institutional sector, which also includes hospitals and other medical facilities, amusement and recreation buildings, public buildings such as courthouses and fire departments, and houses of worship. While overall institutional starts were estimated to increase only 1 percent in dollar value in 2018, to $145.5 billion, educational facilities were projected to increase 11 percent to $64.2 billion. And in 2019, starts in educational facilities are expected to rise again 6 percent to $68.3 billion. According to Murray, the improved coffers of state and local governments and numerous bonds passed are responsible for a healthy school construction market.
California's Proposition 51, passed in 2016, is allowing the state to put $9 billion in bonds toward school construction. "Here in California, the amount of public schools they are building is unbelievable," says Syndi Sim, vice president of marketing and business development at Diamon-Fusion International.
Although enrollment in K-12 grades is expected to rise modestly, increasing from 55.9 million students in 2018 to an expected 56.5 million in 2023, college enrollment is predicted to increase 6.9 percent, adding 1.4 million students, over the next five years. College construction projects are getting a boost from university endowments that have recently shown healthy returns on investments, according to the 2019 Dodge report.
Transportation
Another star of the institutional sector is transportation building. "Airport construction is continuing at a very hot pace," says Simonson. Even though transportation building pulled back last year (an estimated -5 percent) and will drop even further in 2019 (a projected -2 percent), this sector is still benefitting from a strong jump in activity in 2017, when the dollar value of starts surged 126 percent to $21.5 billion. Large airport projects in New York City (LaGuardia), Los Angeles, Orlando and San Francisco are pumping up this category, according to Murray.
Multifamily
Housing is "an important sector of the economy," says deRitis, noting that it "contributes about 15 percent to overall GDP growth…it's a major engine of growth for employment as well."
From 2009 through 2017, housing starts climbed an impressive 127 percent, and multifamily housing has been the star of this recovery. From 2009 to 2016, the number of multifamily housing starts (in terms of units) rose an aggressive 281 percent. In 2017, multifamily housing starts in unit numbers dipped 4 percent, then recovered in 2018 with a 2 percent increase.
New York City was by far the biggest beneficiary of multifamily starts in the first nine months of 2018 ($12.8 billion in value), followed by Washington, D.C. ($3.5 billion), Miami ($3.5 billion), Boston ($3.1 billion) and Seattle ($2.7 billion). This time period also saw an increase of large multifamily projects over the previous year, with 74 of these projects valued at over $100 million. For multifamily housing, 2019 will be a much weaker year, posting a projected 8 percent decline in starts.
Many political and demographic factors are meshing to put a damper on the housing market. Housing affordability is the biggest problem. Incomes have been largely stagnant since the Great Recession. Between 2010 and 2016, U.S. incomes rose a compounded annual average of just 1.1 percent, which did not even keep up with the average 1.6 percent gain in the consumer price index. Meanwhile, home prices have been far outpacing income gains. From February 2012 to July 2018, home prices rose 49 percent.
In addition, rising interest rates are further limiting buyers' ability to afford a home. Mortgage rates are predicted to rise to 5.2 percent in 2019, according to the 2019 Dodge Construction Outlook report; at the end of 2017, they were at 4 percent.
In 2004, nearly 70 percent of all households owned their home. By the middle of 2018, that figure had dropped to just over 64 percent. The oldest millennials are at the age where they should be buying their first homes. However, the large millennial generation, now between the ages of 18 and 38, are burdened with student debt and are not forming households or embracing homeownership at the pace that previous generations did. Discouraged by the high cost of housing, many prefer to rent in urban downtowns or live with their parents. The Pew Research Center recently reported that for the first time in 130 years, adults between the ages of 18 and 34 are more likely to live with their parents (32 percent report they do) than they are to live in any other living situation.
The tax reform legislation passed in 2017 may also have a negative effect on the housing market, especially in expensive regions on the East and West coasts. "Capping the deduction for state and local taxes, as well as the mortgage interest deduction, will lessen some of the tax benefits of homeownership," notes the 2019 Dodge report.
Challenges ahead
Despite a strong economy benefitting the construction industry—and, by extension, the glass business—there are "shadows at the edges," according to Alex Carrick, chief economist with constructconnect, who spoke at the "Tariffs, Trade and Transition" webinar. What threats should glass companies track?
Taxes and debt
The Tax Cuts and Job Acts of 2017 provided stimulus to the economy, say economists, but there are downsides, one being a ballooning government deficit. "The deficit for fiscal 2018 was $779 billion, 17 percent greater than what took place in the prior year," says Murray. "The estimate from the Congressional Budget Office…is looking at a federal budget deficit of $1 trillion in 2019. At some point, there's going to be a day of reckoning. I don't think it's going to be [2019], but it proposes a problem looking at the ability to fund public works programs in the next decade."
The fiscal stimulus generated by the 2017 tax cut will eventually "fade away," says deRitis, and "the economy will naturally grow at a slower rate."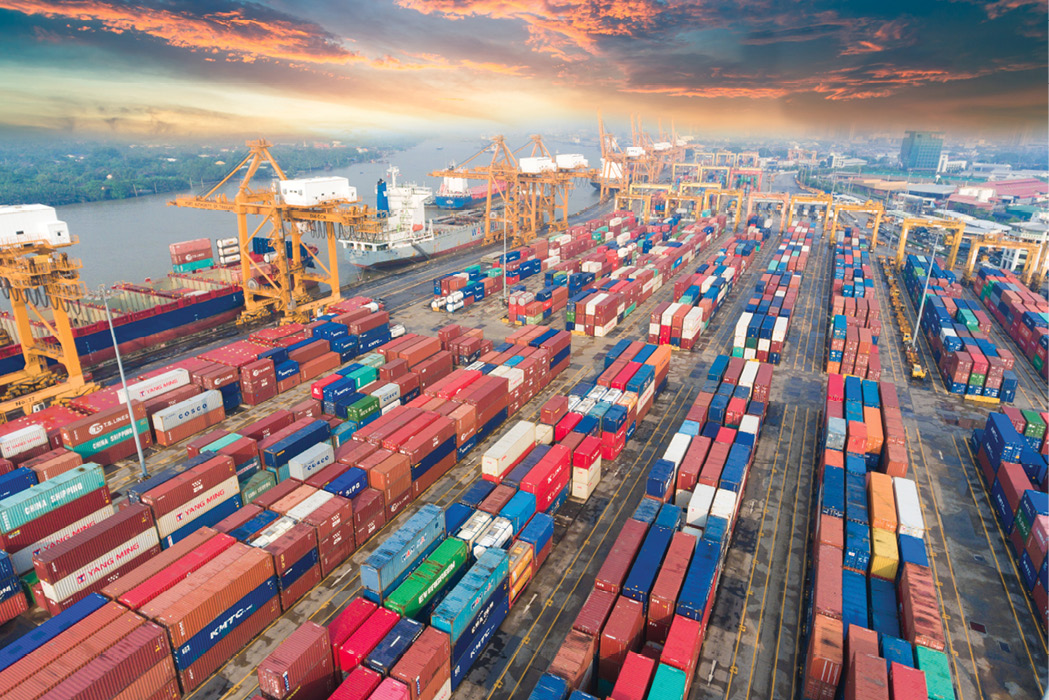 Trade
A key development that has the industry nervous is the trade war with China. DeRitis says that the tariffs imposed on China thus far haven't had a big effect on the economy, but an all-out trade war with China could be disastrous. "In this scenario, I assume the U.S. imposes a 25 percent tariff on all Chinese imports," he says. "At the same time, China responds in kind—they put a tariff on all U.S. imports into their country. China is the third largest trading partner for the U.S. when it comes to our exports abroad, so that certainly has an impact. That risks a recession."
Not everyone thinks the tariffs are a negative. Pete de Gorter, vice president of DeGorter Inc., says, "I believe, in some aspects, the tariffs will benefit domestic producers, as the tariffs will allow them to better compete without cutting their prices or their margins."
Material costs
Flat glass has been rising in price modestly over the last several years, posting a 2.5 percent increase in September 2018 over the same month a year earlier, according to Dodge Data and Analytics. But larger price jumps are being observed in important construction products such as steel and aluminum as tariffs take effect, say economists. "I think we'll see even more price increases [in 2019] as…inventories are used up…and the full brunt of those tariffs, as well as tariffs on thousands of additional Chinese products, are felt," says Simonson, who noted that material prices are rising faster than bid prices.
Labor
By far the biggest concern for glass companies is finding enough employees to keep up with their work. Every glass executive interviewed for this article mentioned labor as a key concern.
Tim Curran, CEO of Binswanger Glass, says his complaint about the difficulty attracting and retaining a "trained workforce" makes him sound like "a broken record." "We can only install what we have the labor to do," he says.
"Competition for workers is extremely high," says de Gorter. "We are all facing troubles getting and retaining the right people. Many of our clients are forced to compete for workers against massive multinational companies, such as Amazon, Siemens, Boeing."
AGC's Simonson notes that construction employment has increased in 45 states, plus Washington, D.C., and in almost 80 percent of the country's metro areas. While that may be good news for the labor market, a survey conducted by the Associated General Contractors of America revealed that 80 percent of contractors found it difficult to find hourly craft workers, and 81 percent of them thought it would be even harder in 2019. Because of problems finding labor, close to 50 percent of these contractors are putting in higher bids and building in longer lead times.
The labor shortage is not just a concern of nearly every glass company, but on a broad scale, it produces a drag on the economy. And economists note that declining population growth in the U.S., along with strict immigration policies, is intensifying the country's labor problem.
To compensate for the tight labor market, glass companies are looking for ways to do more with fewer workers. Searching for greater efficiencies, they're turning to increased offsite fabrication, more efficient scheduling, new computer hardware and software, and the latest in machinery.
"We are continually making window installations more efficient, easy and robust due to the difficulty in finding a sufficient skilled labor force and increased building envelope commissioning requirements," says Kurtis Suellentrop, vice president of marketing for Winco Window Co. "For example, we ship each window packaged with the trim kit. This makes installation onsite much easier and more organized."
As older managers in the glass business retire and younger ones take their place, new practices are taking hold. "The glass industry was slow to change for many years," says Sim. "But the younger generation coming up in the ranks is using the automation, the machinery, the social media, the new marketing opportunities. … They want to differentiate their businesses and create a really bright future in the glass industry."
2019 and Beyond
In the face of a slowing economy, most glass companies are upbeat about their future and remain busy in all areas of the country. "2018 was a phenomenal year for us, and I think it's going to continue in 2019," says Sim, adding that DFI sold more machines in 2018 than in any previous year.
"We have launched a series of new high-performance products over the last 24 months," says Garret Henson, vice president, sales and marketing, of Viracon. "The adoption rate for our oversized capabilities, our recent solar-control coatings and our newest air-spacer technology has exceeded our expectations. The next round of technology under development is very promising as well."
"Personally, I sit in the middle and remain cautious," says de Gorter. "There are things I do not find sustainable in the long term…mainly the housing market, which is closely tied to our line of business." However, he was quick to add that for the long term, he remains "exceptionally optimistic," especially in regard to new technologies that are making glass designs and solar panels more efficient. Economists such as AIA's Baker mentioned 3D printing, self-driving vehicles, drones, artificial intelligence and robotics as having influence on the construction industry of the future.
"In the world of glass, there has really not been a more exciting time to be part of this business," says de Gorter.