Innovations in Glass
2018 Glass Magazine Award winners showcase complex designs, improved performance and advanced technologies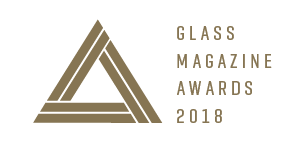 Glass Magazine thanks GGI for sponsoring this year's Glass Magazine Awards.
This year's Glass Magazine Award winners are innovators, blazing trails in the industry with complex façades, sophisticated manufacturing and design technologies, and multi-faceted high-performance products. The winning projects and products showcase a future-focused industry increasingly defined by innovation.
"It's amazing how our industry continues to evolve, responding to the design challenges presented with innovative new product developments, new equipment and tools," says Alice Dickerson, 2018 Glass Magazine Award judge and founder/managing director, Division 08 Marketing LLC. "The nominations received are evidence of the bar being raised higher each year and not only are the manufacturers, fabricators and other members of the project team responding with solutions to meet some very interesting design aesthetics, they are doing this while also meeting multiple, stringent code requirements dictating the use of protective glazing, fire-rated and high-performance coatings."
Winners this year demonstrate the marriage of sustainability and high-end, advanced design. Projects include a storefront for a high-fashion brand that uses solar glass panels as an attractive design element, as well as a luxury apartment building that features rippling blue glass floors in place of a water element. Product winners showcase glass's complexity and design flexibility, including a fire-rated system with the look of traditional wood framing, as well as colored photovoltaic glass with the appearance of non-solar architectural lites.
The submissions "appear to have gone beyond the utilitarian aspects of transparency and reflectivity to push the boundaries of what is possible," says GMA judge John Stephenson, senior architect and envelope specialist, BRPH Architects and Engineers. "There are some truly remarkable examples in these entries that combine the art and science of what we do as designers and builders to create something original and new. I believe that nothing speaks to the state of our building technology [like] the role of glass in defining the contemporary building envelope."
Helping to further establish glass as an integral part of the building envelope, 2018's award winners underline the innovations that make glass an increasingly high-tech building material.
"I feel [the Glass Magazine Awards are] a great way for people to see all these amazing advancements that have taken place and that are available to us. This new technology will hopefully attract young professionals to join the glass and metal industry," says judge Tom O'Malley, partner/director of sales, Clover Architectural Products.
"It's always fascinating to see the variety of products and varied approaches across the different product categories and market segments," adds judge Andrew Haring, vice president of marketing, C.R. Laurence Co.-U.S. Aluminum, crl-arch.com, crlaurence.com. "Whether it's from the product or project perspective, there's a common universality in a desire to create value—which can take many forms. The biggest takeaway is that the vitality of the glazing industry is strong. Every problem is met with a solution, and we're never done improving."
The Judges
The Glass Magazine Awards would not be possible without the participation of our judges, who reviewed more than 80 total nominations to determine this year's winners. The 2018 Glass Magazine Awards judges hail from all segments of the industry and offer expertise in everything from design and engineering, to glass and glazing manufacturing and fabrication, to product handling and installation. Glass Magazine would like to extend a thanks to this year's Glass Magazine Award judges for the time and careful attention they dedicated to the selection process.
The Awards

Balenciaga Flagship Store
Onyx Solar, Crawford-Tracey Corp.

Bridgestone Americas Headquarters
Harmon Inc.

Louis Vuitton, Flagship Store
Nathan Allan Glass Studios

St. Patrick's Cathedral
seele Inc.

T-Mobile Showcase Store
Giroux Glass, Goldray Glass

The Pierce Boston
Oasis Specialty Glass, Lucid Glass Studio

TiG Sensor Array
FDR Design Inc.



Solector Sun Shading Estimator
Kawneer North America


Fireframes TimberLine Series
Technical Glass Products



ComponentsColored photovoltaic glass for cladding
Onyx Solar Group