Innovations in Glass
2018 Glass Magazine Award winners showcase complex designs, improved performance and advanced technologies
Most Innovative Curtain Wall Project (buildings 5 floors or fewer)
Balenciaga Flagship Store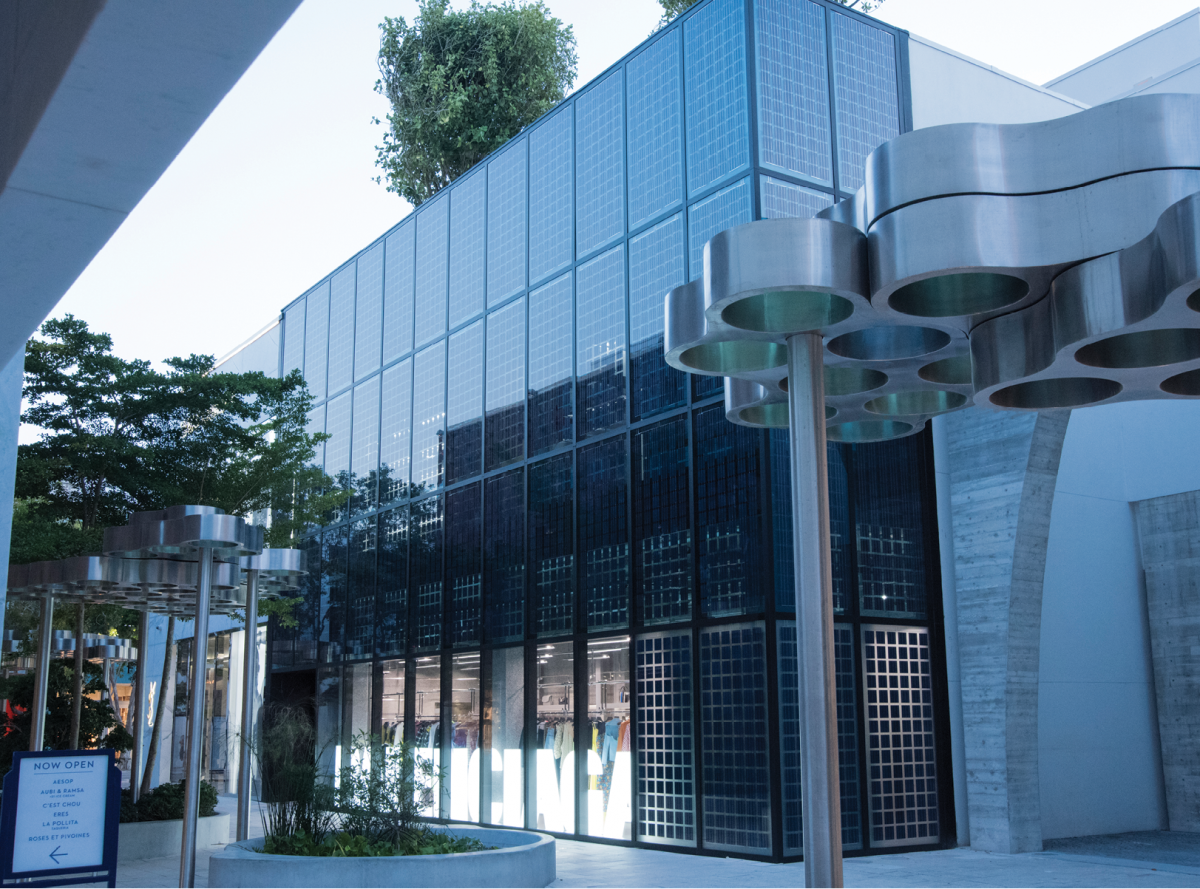 Photo courtesy of Crawford-Tracey
Aesthetics, safety and sustainability seamlessly combine in the innovative storefront of Balenciaga's new flagship store in the Miami Design District. The solar panels incorporated into the storefront design attract the attention of passersby, says Diego Cuevas, vice president of business development, North America, for Onyx Solar, the manufacturer of the photovoltaic glass. "This project puts solar energy at the eye level, so people can really tell the store generates clean power," says Cuevas.
Balenciaga's store-planning team, along with Atmosphere Design Group, the architect, met with Onyx to realize a design that would combine a high-end look with sustainability. Onyx's team experimented with solar cell density, the space between PV cells, as well as the tint of the blue glass to achieve a balance between light transmittance, color and energy output, says Cuevas. Onyx ultimately provided solar crystalline silicone low-emissivity PV glass, 1/2-inch double glazed insulating with argon. The company fabricated 48 units, each measuring about 10 feet by 5 feet. While maximizing natural daylight, the complex glass filters 99 percent of UV light and 95 percent of infrared light. Each of the glass units, which individually generate 320 kilowatt hours of energy per year, could power an electric vehicle to drive 1,500 miles in the same time, says Cuevas.
Built in Miami-Dade County, the system also had to meet hurricane-impact requirements. To achieve this, the team used Crawford-Tracey Corp.'s 7-foot Pro-Tech 7SG structurally glazed curtain wall system for laminated glass, for large missile impact and small missile impact applications. "This project is a great example of where technology is going with glass and glazing systems, offering the client a great look while contributing to sustainable design, all while meeting some of the toughest hurricane building codes in the world," says Ray Crawford, president of Crawford-Tracey Corp.
Cuevas says the system was also "perfect … to host the wiring and conceal all the junction boxes to preserve the high-end aesthetics of the project while at the same time turning it into an easy-to-access system."
The general contractor was Pacific Construction. The electrical contractor was Abender Corp.