Innovations in Glass
2018 Glass Magazine Award winners showcase complex designs, improved performance and advanced technologies
Most Innovative Decorative Glass Project
Louis Vuitton, Flagship Store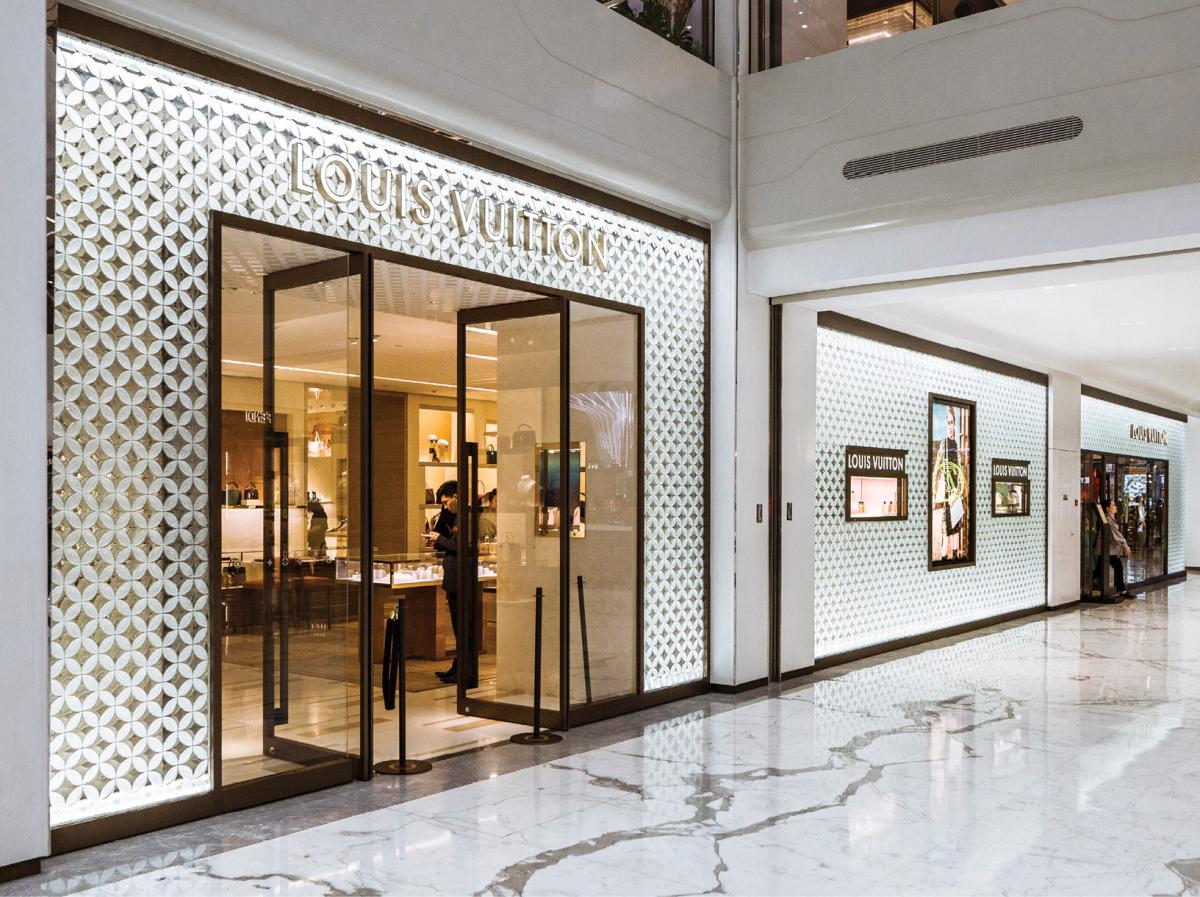 Photo by Weiqi Jin
Louis Vuitton's flagship store in Shin Kong Place mall, located in Beijing, China, now boasts a newly renovated, glowing glass storefront courtesy of Nathan Allan Glass Studios Inc. The fabricator provided over 1,000 square feet of its custom kiln form glass, with a pattern simulating one of the brand's logos.
To fulfill the design goal of producing a visually attractive storefront that will attract shoppers, Nathan Allan fabricated 32 panels of a deep-patterned, 3D decorative glass. Forming the deep glass pattern, while also incorporating clear pattern lines in the glass surface, posed a significant challenge, says Barry Allan, director, Nathan Allan. "Pattern lines define the design, but they also create technical issues with safety tempering. As the glass can form too deep, the extreme depth can also prevent the finished glass from tempering," he says. "The solution was to create molds which allowed for the perfect depth in the pattern, and created lines which defined, but did not alter the pattern."
The storefront's beautiful glow is courtesy of installed edge-lighting which illuminates the glass crystals applied to the back of the glass. The effect required Nathan Allan's staff to apply millions of crystals by hand to specific sections of the glass, a process which took months to complete, says Allan. Delivering the glass on time required all hands on deck, with artists, factory technicians and also Allan himself working seven days a week to finish the job.
Glass panels were installed into a powder coated gloss black storefront framing system with a deep bronze anodized finish, installed by Permasteelisa, Hong Kong. The general contractor was Josef Gartner Curtain Wall (Shanghai) Co. Design direction came from Ada Leung and Arne Von Seidlitz, interior designers for Louis Vuitton.