Innovations in Glass
2018 Glass Magazine Award winners showcase complex designs, improved performance and advanced technologies
Most Innovative Interior Glass Rails, Walls and Doors
St. Patrick's Cathedral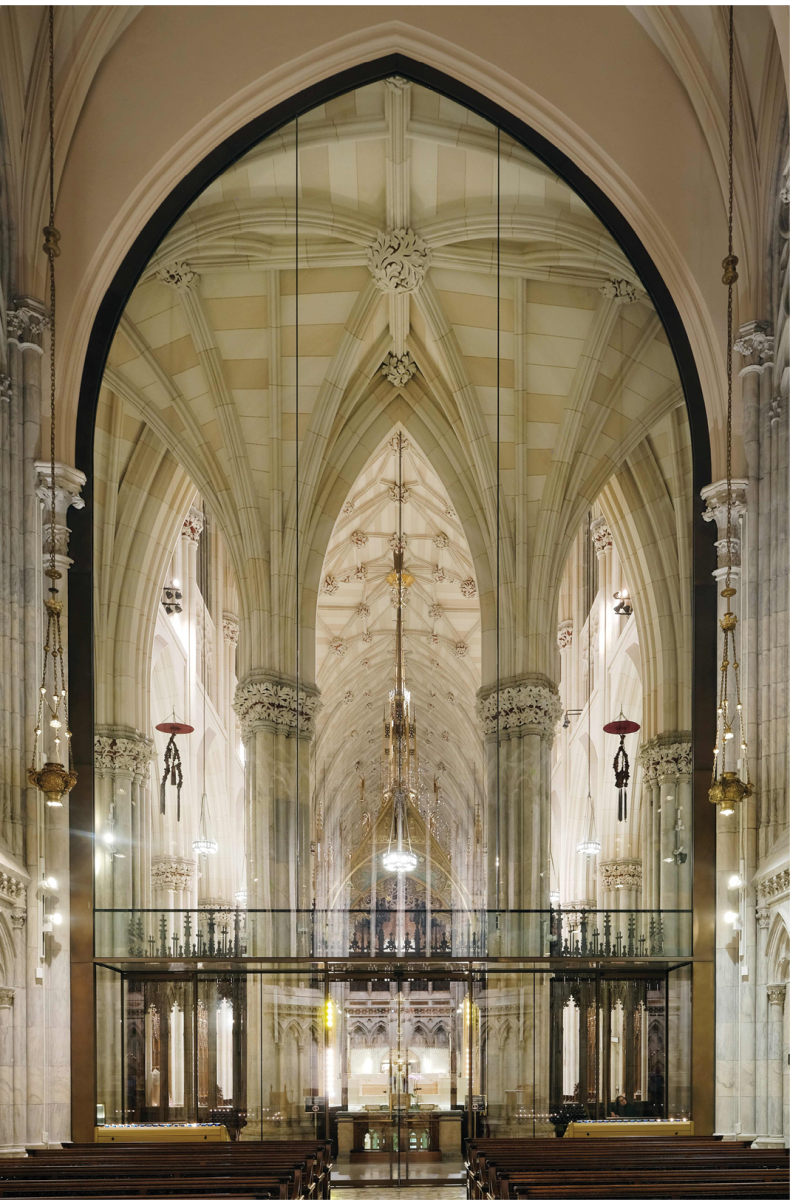 Photo © Stephan Wurster.
The Lady Chapel at St. Patrick's Cathedral, located in New York City, now features an all-glass interior façade, installed by seele Inc., that allows visitors to view the chapel while also ensuring quiet within the space. The largest neo-Gothic cathedral in the United States, St. Patrick's first opened in 1879 and is located in Manhattan, opposite the Rockefeller Center.
The team at seele was commissioned for the design, fabrication and installation of the 882-square-foot interior façade. To preserve the visual aspect of the existing structure, the design was planned as an all-glass system, which is perfectly integrated into the building. Matching the existing structure required the team to conduct a 3D scan of all interfaces and the target in order to shape the glass wall perfectly, says Antonio Montserrat, sales manager, seele.
The upper section consists of 35.24-by-7.84-foot glass panes of 3-by-12-milimeter laminated glass, supported by a 23-foot-long 8-ply glass beam. The heavy glass panes, weighing approximately 2.76 tons, are supported solely by this beam, says Montserrat. Sedak supplied the low-iron glass laminate with a SentryGlas Plus interlayer. The system also features brass trim pieces, designed to match the shape of the existing columns.
The double leaf glass swing doors in the lower section of the façade are set slightly forward in order to preserve the chapel's original mosaic floor. The glass swing doors are fitted with brass door handles and mountings that match the façade's brass trims.
Seele GmbH and seele pilzen provided the steel and brass fabrication for the project, with Hofe GmbH, hofe-gmbh.de, contributing brass polishing and patina services. The architect was Murphy Burnham & Buttrick Architects. The main contractor was Structure Tone Inc. Robert Silman Associates provided engineering services to the project.