Innovations in Glass
2018 Glass Magazine Award winners showcase complex designs, improved performance and advanced technologies
Most Innovative Monumental Glass Entrance
T-Mobile Showcase Store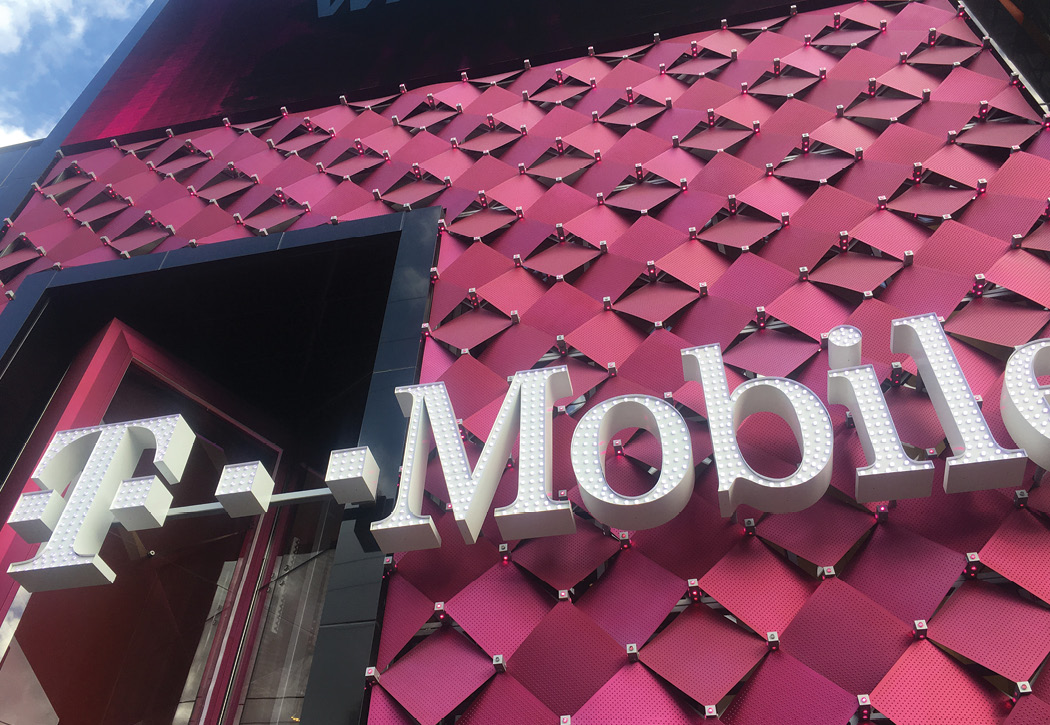 Photo courtesy of Giroux Glass
The grand entryway of the new T-Mobile showcase store looks right at home in the ritzy Las Vegas Strip. Completed in November 2017, Giroux Glass Inc.'s multi-faceted glazing scope for the project included the impressive and complex storefront system with standout magenta glass to match T-Mobile's branding. "T-Mobile had never before created such a store and wanted something unique for this highly visible retail location," says Barbara Kotsos, director of marketing, Giroux. "It truly is like no other store in Las Vegas, or [like] the other 5,000 T-Mobile outlets."
Appropriate to the location, the design aesthetic for the 9,000-square-foot store was modeled on a nightclub, says Kotsos. Giroux supplied 9/16-inch tempered laminated Vitro Architectural Glass Starphire glass for the exterior, in addition to Starphire glass with Vanceva Color Interlayers to create the magenta color.
The magenta glass was fabricated by Goldray Glass. "The distinctive glass corporate color is an integral element to the design theme, as the magenta glow can be seen throughout the entire store," says Kotsos.
The sizable project required coordination among the project team players. Giroux closely collaborated with High Steel Structures on the "faux door," which utilized a custom steel frame and internal standoffs for the exterior wall and door, in addition to glass supports. Arcadia Inc. supplied its AG451 and T-500 curtain wall framing systems for the exterior.
Nadel Architecture designed the project, in collaboration with Fitch Design, Giroux and T-Mobile. DC Building Group was the general contractor. Glasswerks and Innovative Structural Glass supplied additional glass to the project. PK Delp and ES2 helped realize the custom architecture. YESCO installed all composite panels, cladded the faux door, and provided all the exterior lighting and signs around the door. The company also fabricated and installed the steel lattice in front of the curtain wall, as well as the handles for entry doors.